What takes four years but lasts a lifetime? Membership in the Central family! Here are four ways the alumni office helps you stay connected with the college.
THE BIB EFFECT
"The alumni office sends a bib to each alumni baby at birth. Barb [Little] Butler ['58] started the practice with CUI t-shirts back in '61 and the first recipient was Steve Sikkink ['83], son of John '62 and Betty Nagel Sikkink ['61]" states an article in the March 1980 "Central Bulletin."
Steve Sikkink got the program off to a great start. He graduated Central right on time, 22 years later. He's now a Central Club, Heritage Roll of Honor and Forever Dutch Steering Committee member and a Central trustee.
Not every legacy t-shirt or bib recipient ends up as intimately involved in the life of the college as Sikkink. In the 2019-20 academic year, 179 students, or about 16% of Central's approximately 1,150 students, were "legacies" or "heritage students" — students whose parents or siblings attended Central. The college even puts on an annual Legacy Luncheon for these students and their parents during Welcome Week.
Legacies are no longer made by bibs alone. The alumni office now distributes gifts in increasing frequency: a Central beach ball when the little legacy turns 5. A Central pencil bag when their age reaches double digits. A Central tote bag their freshman year in high school.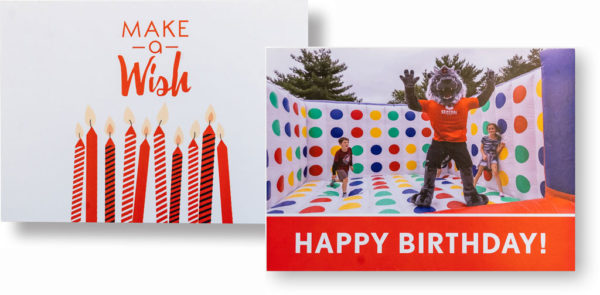 Then the college really turns up the swag: High school sophomores get a Central lanyard. High school juniors get a Central phone wallet (a little plastic pocket that sticks on to the back of a cellphone and can hold a credit card or a couple of bills). High school seniors get a welcome letter from a senior legacy student, plus a coupon for 20% off at the Central Spirit Shoppe, Central's gift shop, as an inducement to make a campus visit. There they can buy even more Dutch gear.
It all makes for a solidly Central-branded childhood — something many legacies seem to genuinely appreciate. Mary Benedict, assistant director of alumni relations and the one who sends the gifts, even gets thank you notes. Amber Butler (legacy Class of 2031 or thereabouts), daughter of Wendy Mielke Butler '06, sent the charming illustrated note (below). It so touched Benedict she made a keepsake of it.
Benedict has worked for the college for 18 years. She started in the admission office so she's now recruiting her second generation of Central students. Reggie Osborn '05 was a student worker in the admission office then. He introduced his daughter Ava (another potential 2031er) to Benedict on a recent visit to Pella.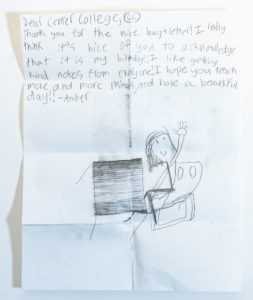 "This is Miss Mary who sent you the nice pencil bag," he said. Ava was grateful, Benedict remembers.
Cooper Vittetoe '21, son of Stephanie Yates Vittetoe '90, wrote a letter to legacies encouraging them to apply. "One actually wrote me back," Vittetoe says, a bit amazed.
Sometimes, though, all the Hoo-Rah seems to backfire — at first.
"As a daughter of two Central alumni [Brad Fuller '92 and Kristin Tryon Fuller '94], I'd gotten a bib from Central in the mail shortly after I was born," Mackenzie Fuller Johnson '19 says. "But as a rebellious teenager, no way was I following tradition and going to Central."
Her mother persuaded her to at least visit Central's campus. "I hated her the whole car ride home because I loved my visit so much," Johnson says. She graduated as student body president.
Patrick Gray '19 and his sister Mary Gray '21 can relate — in spades. As son and daughter of David '87 and Catherine Snyders Gray '88, nephew and niece of Theresa Snyders Crumley '89 and younger brother and sister of Riley Gray '17, they attempted — and failed — to resist the Central lure.
"AS HARD AS I TRIED NOT TO COME HERE, THIS WAS WHERE I WANTED TO BE."

— MARY GRAY '21
"I wanted to do my own thing," Patrick says. "I tried to find somewhere that would be unique and individual to me. I looked at other colleges and universities, but none quite measured up."
"As hard as I tried not to come here, this was where I wanted to be," Mary agrees.
Their younger brother Evan Gray '23 is here, too.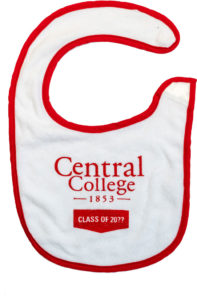 "Legacies don't come here just because we send them bibs and birthday cards," Benedict says. "They know they have many other choices. But they also realize we know them and are ready to welcome them when they're ready to visit. They know we care and that resonates with the stories they've heard from their parents and other family members about Central. It's fun to see them discover their own impressions of us once they get here and it's wonderful to welcome them as first-year students."
SEND US YOUR BIRTH ANNOUNCEMENTS!
We'll make sure your new arrival gets a bib, a birthday card and a warm welcome into the Central family. Call 800-447-0287 or email alumni@central.edu.
LEGACY STUDENTS: HOW DOES CENTRAL COMPARE?
According to a March 2019 article in Bloomberg, legacy students made up the following percentages of these institutions' student bodies. (Central's figure is from Central's registrar.)
Baylor: 32%
Notre Dame: 22%
USC: 16%
CENTRAL: 16%
Harvard: 14%
Princeton: 14%
Yale: 11%
REFER A STUDENT
Thirty-seven years ago, Central's alumni office decided to link the college's longtime leadership in teacher education to its efforts to recruit new students. "Alumni Educators Respond to Admissions Plea, Recommend Prospective Students for Central," read the headline in a 1983 edition of the "Central Bulletin," a predecessor to "Civitas."
"Initial response … has been very good," the article reported: Dozens of alumni educators in Iowa and elsewhere had responded to the call for names of promising students.
The article closed by broadening the appeal to all Central alumni. "Anyone who knows high school juniors or seniors who should be recruited by Central College is encouraged to send those student's names, addresses and other pertinent information to either the Alumni or Admissions Office without delay."
Now the college is relaunching that referral program — but with incentives and a high-tech twist.
The Be Forever Dutch® Student Referral Program debuted on Central's website in January.
"Do you know a promising student who would benefit from a Central education? Let us know by filling out our referral form," says the new webpage at central.edu/refer. "We'll be in touch to invite them to learn more about Central, visit campus and apply. We'll send you some Central gear as a token of our thanks — first when you refer a student and a second time if a student you refer enrolls."
"I STARTED GETTING REFERRALS WITHIN HOURS OF THE APPEAL'S POSTING."

— MARY BENEDICT, ASSISTANT DIRECTOR OF ALUMNI RELATIONS
"I started getting referrals within hours of the appeal's posting," Benedict says. "We aimed it at an alumni audience, but one of the first referrals came from a prospective student. That's great — we'll take names and send them their Central gear."
And what gear would that be? Benedict just smiles. "It's a surprise," she says. (Think "cool, branded and easy-to-mail." She also sends handwritten thank yous to all who participate.)
"Don't stop there," the webpage continues. "Once you've referred a student, consider reaching out to let them know. They'll appreciate hearing that you think highly enough of their abilities and care enough about their future to connect them to a place that means so much to you.
"Tell them about your experience at Central and encourage them to visit campus — or bring them to campus with you the next time you visit. You can also share stories about current Central students.
"Watching a future Central student discover what it means to be Forever Dutch® can be a tremendously rewarding experience. It's something they'll remember you for the rest of their lives." Benedict and the folks in Central's admission office say the last part is true — and a big reward of their jobs. They're determined to make it easy for members of the Central family to experience that joy as well.
Refer a Prospective Student Today at central.edu/refer.
CENTRAL IN THE CITY
The newest official alumni program, Central in the City, got its start nearly 10 years ago when some alumni wanted to throw a party for other Central graduates in their area. The college was more than happy to help, and soon was working with alumni in various locations — Minneapolis, Des Moines, Phoenix and elsewhere — by sending out invitations, keeping track of RSVPs, finding alumni hosts and even chipping in here and there for refreshments.
These days, it's not unheard of for someone from the admission or development offices to show up when their travel schedules allow to reconnect with alumni and visit with prospective students. The events have even popped up right in Pella at Smokey Row, a coffee shop and eatery a few blocks from campus.
"We realized quite a few local alumni were driving right by campus every day on the way to work but that we never got to see them," Benedict says. So the college set a date and offered to buy a cup of coffee for any alumni who showed up. Representatives from the alumni office and other advancement staff mingled with alumni and all enjoyed staying in touch. The Pella event is now annual. Remote events happen several times per year.
Sometimes the events are hosted by a group of classmates or near classmates; former teammates; or alumni that bonded over a study abroad experience, participation in a musical group or other affinities. Larger gatherings might feature a talk by one of the alumni or someone from the college, such as a coach; visits from students who live in the area if the event is over a Central break; and a dinner.
The alumni get a mini-reunion and the college gets to connect with alumni who might be interested in supporting a Central initiative, hosting an intern, working with admission, mentoring students or speaking to classes. Win-win-win.
To inquire about hosting an event call 800-447-0287 or email alumni@central.edu.
For information on upcoming alumni happenings including Central in the City events, visit central.edu/alumni/events.
CENTRAL RED SOCIETY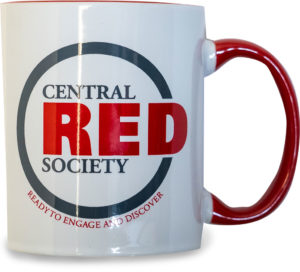 There's another series of events frequented by Central alumni: the Central RED Society, a lifelong learning program that sponsors a series of 15-20 classes per year. Past classes have included a tour of Vermeer Corporation and a live interview of former Iowa congressman Neal Smith by CBS senior correspondent Harry Smith '73. Classes are open to Central Red members; hosted on campus and sponsored by an independent 501 (c)(3) nonprofit organization. About 45% of attendees are Central alumni, as are many of the presenters. Central RED currently has 190 members and the average class size is 70.
For more information about Central RED Society, visit central.edu/red.