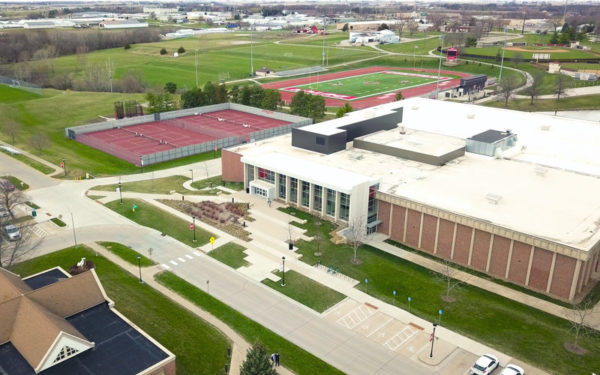 WRESTLING
Central's Duncan Lee '20 emerged from a stacked field of national contenders to win the 285-pound title at the NCAA Division III Lower Midwest Regional in Dubuque on March 1. Post-baccalaureate student Nathan Fritz '19 was second at 184 pounds and Rob Areyano '22 was third at 149 as all three gained berths in the NCAA Division III Championships that were later canceled due to the COVID-19 public health threat. Central was fifth in the 18-team regional field and 12-6 in dual action, placing sixth in the American Rivers behind five nationally-ranked teams.
WOMEN'S BASKETBALL
It was a breakthrough year in the rebuilding of the Central women's basketball team under coach Joe Steinkamp '03. Central recorded its most wins since 1997-98 with a 15-11 mark, gaining its first conference tourney berth since 2004- 05. Forward Kendall Brown '20 and guard Kelsea Hurley '23 each received second-team all-conference honors.
MEN'S BASKETBALL
A young and injury-riddled lineup endured a 5-20 campaign as Central lost three key performers for much of the year. Guard Adam Flinn '21 was the league's second-leading scorer (21 points per game) and a second-team all-conference pick.
MEN'S AND WOMEN'S INDOOR TRACK AND FIELD
Brock Lewis '22 and Drake Lewis '22 earned NCAA Division III Championship berths in the men's long jump and high jump, respectively. Three women qualified, with Kennedy Morris '21 in the weight throw, Mary Gray '21 in the pentathlon and Mari Stein '23 in the mile. The meet was later canceled. Both squads settled for fifth place in the American Rivers.
Duane Schroeder Male Scholar-Athlete of the Year
Three-time NCAA decathlon/heptathlon champion Will Daniels '19 received the American Rivers Conference's highest honor. It's based on athletics and scholarly achievements, service, involvement and leadership. Daniels carried a 3.99 GPA and is the seventh Central athlete to receive the award, established in 2002.
---
For up-to-the-minute news on Central athletics: athletics.central.edu