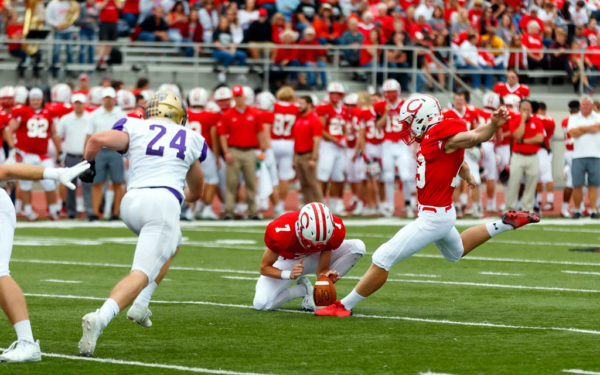 Jon Alberts '20 tests well.
Whether he's being tested in a Principles of Finance exam in the Weller Center or by a last-minute field goal at Ron and Joyce Schipper Stadium, he gets high marks.
Yes, exams in the Weller Center tend to draw fewer spectators.
Alberts carries a 3.91 GPA as a senior business management and philosophy double major, while kicking field goals at an 86.4% clip for the Central College football team, with a perfect 59-for-59 mark in extra points in the regular season. He helped the Dutch to a share of a record 31st conference championship and a 21st NCAA Division III playoff berth.
Alberts confesses that a decisive kick stirs up more uneasiness than an essay question.
"I wouldn't say I get nervous for tests," Alberts said. "I kind of enjoy them, in a weird way. It's satisfying when I take a test and know everything. Some people freak out about tests, but I don't."
But as the clock ticked down Nov. 9 with Central nearing field-goal range and knotted 49-49 against nationally-ranked Wartburg College, Alberts felt a surge of anxiety. That's when his mental preparation became as important as his physical training.
"I was definitely trying to fake it until I made it by just acting super calm and telling myself I was calm," he says. "There's no way to avoid pressure sometimes, and when I go out there I feel it in my legs, but I try not to overthink. I try not to let the pressure get to me. But if it does, I block it out and think about my keys — keeping my shoulders still and swinging up through the ball — so I don't get in my own head."
Alberts became Central's 15th AFCA All-America pick, earning first-team honors, and was a finalist for the Fred Mitchell Award as the nation's top small-college kicker. He received all-conference recognition for the third consecutive year and was cited as the league's special teams player of the week four times this year and nine times overall.
He's also a first-team CoSIDA Academic All-America pick and a three-time academic all-conference honoree. His 48-yard field goal Oct. 5 at Luther College was the longest in the conference. His school-record 55-yarder last year at Wartburg was the longest in Division III. About the only thing hampering his All-America hopes was, ironically, Central's offensive efficiency. The Dutch turned 46 red zone trips into 36 touchdowns, leaving fewer field goal opportunities for Alberts than many of his competitors.
That's fine with him.
"I always say I like to kick extra points rather than field goals because that means we scored a touchdown," he says.
But the life of a kicker can sometimes be a lonely existence. Teammates run drills. Alberts kicks. Teammates review game plans. Alberts kicks. Teammates watch film. Alberts does homework.
A kicker's playbook is pretty slim.
"My coaches will send me film, and I watch all my kicks," he says. "But that takes me 15 minutes, whereas they game plan for the other team."
"I'VE ALWAYS BEEN DISCIPLINED ABOUT THE THINGS I CARE ABOUT."

— Jon Alberts '20
The time on the field is brief, but with the game on the line, the kicker's role suddenly is most important. That responsibility fosters a self-discipline that translates well to academic life.
"My position is very accountable," Alberts says. "In high school, my coach just kind of let me loose. He said, 'You just have to be ready for the five minutes we do extra points and the 10 minutes we do kickoffs. The rest of practice, we don't really care what you're doing.' I would take advantage of that and go find an open field and kick on my own."
He uses a similar motivation when it's time to study.
"I've always been disciplined about the things I cared about," he says. "I've always cared about grades, so I do my schoolwork as best I can."
Alberts initially eyed law school and opted for a philosophy major, but now he's aiming for a career in finance. His first philosophy class was with Mark Thomas, assistant professor of philosophy, now his advisor.
"I always thought that I would be a good lawyer because I like arguments, writing and persuasive things like that, and that's sort of what philosophy is," Alberts says. "We had good classroom discussions. I wound up liking it and stayed with it."
He's stayed with the Dutch as well.
"We've had a tradition of great kickers here, and he is raising the bar," coach Jeff McMartin '90 says. "He really pushes himself. He's just a rock-solid kid and a rock-solid kicker. He loves the big moment."