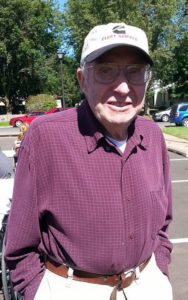 A Wisconsin dairy farmer who never attended Central College gave hundreds of thousands of dollars to ensure generations of students would benefit from the education he never received.
Earl Simmelink, who was 95 when he died almost four years ago, saw the benefits of the Central experience through the eyes of his sister, Ruth Simmelink Sims '45.
He first donated to the college in the early 1970s and gave more than $600,000 to Central throughout his life. That included more than $500,000 from his estate.
Central recognized Simmelink's generosity by naming the atrium in Graham Conference Center in his honor. The Earl Simmelink Atrium was dedicated Nov. 8, 2019, during a meeting with the National Advisory Council.
"The Earl Simmelink Atrium will serve as an enduring symbol of his warmth, generosity, humility, stewardship and legacy," says Sunny Gonzales Eighmy '99, vice president for advancement. "We thank him for his faith in and extraordinary support of Central College."
Simmelink's life was marked by his generosity and service to other people. He provided a substantial gift to the college's endowment to fund scholarships in his name.
"I believe the most important work of God is to give love to others," he once said.
Simmelink lived his entire life on a farm in Baldwin, Wisconsin, originally owned by his grandparents. His love for the land stemmed from his upbringing and strong faith. He implemented conservation practices that protected the land and refused to apply chemical herbicides or fertilizers.
Simmelink did not attend Central but was connected to the college through his sister. Ruth died Nov. 28, 2007.
Dan Sims, Earl's nephew and Ruth's son, shared his reflection on his uncle's life:
"While I was growing up, my parents and I would visit Uncle Earl twice a year — once at Christmas and once during the summer. As a bachelor dairy farmer, he had very little opportunity to travel and few other relatives with whom to spend the holidays. My grandparents passed away when I was quite young.
"Thus, we made a commitment to be with him. Earl represented a selfless devotion to duty that is hard to imagine these days. I believe part of him wished he could have studied and traveled the way my mom did. As the only male heir to the dairy farm, he felt it was his duty to take it over and keep it going.
"And he did that well. The farm was steadily productive through the years, and he was able to save enough money to make the generous donation."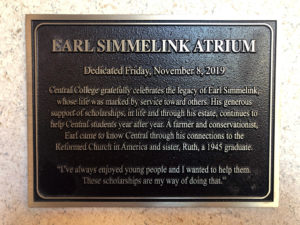 The Earl Simmelink Endowed Scholarship, established in 2016, is awarded to a student with financial need and is renewable for four years. So far, it has funded 13 scholarships totaling more than $24,000 to six students. It will continue to support Central students for generations to come.
"I've always enjoyed young people and I wanted to help them," Simmelink said. "These scholarships are my way of doing that."
Simmelink died March 19, 2016, at Birch Haven Assisted Living in Baldwin, Wisconsin, at age 95. His Bible was at his side.