When it comes to generosity, the Central College family puts its money where its mouth is.
Central always has had a generous group of donors. Alumni, parents, friends, faculty, staff, foundations and even students help fund meaningful scholarships. The hope is that graduates continue the cycle. After all, membership at Central is for a lifetime.
"Everybody has a heart for others and a heart for helping. We take care of our own," says Sunny Gonazales Eighmy '99, vice president for advancement. "The Central family always wants to be supportive."
The scholarships the college awards students are a tangible vote of confidence in their futures.
Central enjoyed a record year of fundraising for its Journey Scholarship Fund, bringing in $1.34 million from July 2018 through June 2019. Of course, that was before Central's historic announcement of a new annual tuition price of $18,600 for Fall 2020.
The bold move made Central a leader in promoting transparency in the cost of higher education. The old model offered what essentially were discounts, and few students paid the published price. For decades this has been routine practice for nearly all colleges and universities.
The change means Central no longer can offer large discounts — disguised as scholarships — to incoming students. The new price puts Central's tuition in line with large state universities.
Central's commitment to scholarships, however, has not evaporated. In fact, it's more important than ever, Eighmy says. As the college continues to offer scholarships in proportion to the new tuition price, it's also true that no current student will pay more in Fall 2020 than they do now.
But it also means that all Central scholarship offers now must be funded. The shell game of discounts is over, and every dollar is real.
"A lot of donors I work with want to know how they can help," Eighmy says. "We are grateful for all gifts to the college but some of the most meaningful are those that support and open doors of opportunities for students. I love this human connection."
WHAT DONATIONS FUND
With the change in tuition price, Eighmy and her advancement team have been charged with raising more money, especially for scholarships.
The goals are ambitious but indicative of the deep commitment to students, families and affordability.
With 640 Journey Scholarships and 269 endowed scholarships available for approximately 1,150 students enrolled at the college, Central would love to increase the number of scholarships available to support all students. If every Central student received one scholarship, the current funding pool would fall short, and it's true many students receive more than one scholarship.
Through endowments and the Journey Scholarship Fund, nearly $3 million in scholarships is fully funded each year. Growing that amount to back the college's commitment to families is essential.
Students, of course, receive additional aid, such as federal and state grants, work study, student/parent loans and outside scholarships. But every scholarship dollar now carries more impact.
"We're in a whole new world," says Wayne Dille, director of financial aid. "We're early, but we know the tuition announcement has piqued interest. Our biggest priority is helping students with their level of need."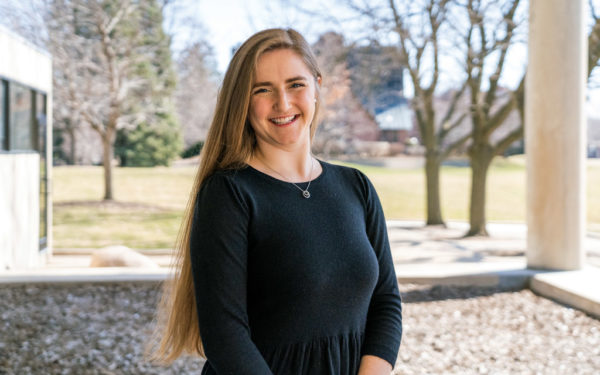 "Thanks to your generous support, I've had amazing opportunities put in front of me. I want to thank you for allowing me to pursue what I desire in my education. I'm so blessed to be here and am so thankful."

— Allison Reinbold '20

HOMETOWN: Springfield, Missouri
MAJORS: Mathematics and Psychology
SCHOLARSHIPS: H.S. Kuyper, Ministry and Mission
THE SCHOLARSHIP PUZZLE
Dille's job is to assemble the puzzle that matches scholarships with students. The college offers two types of scholarships: annual and endowed.
An annual scholarship is a gift that must be replenished every year to support a student. It has an immediate impact.
An endowed scholarship lasts a lifetime and is a gift that keeps giving. Each year, a percentage (usually around 5%) of the whole is used to fund a scholarship.
At Central, the Journey Scholarship Fund supports annual scholarships. This year, 640 students received a Journey Scholarship. The average award is around $1,000 apiece. Every dollar donated to the fund supports students directly and is awarded based on need.
On the endowed side, 10 new scholarships were funded this past fiscal year, bringing the total to 269. Central suggests a minimum of $50,000 to start an endowed scholarship. That amount approximately would fund a $2,500 annual scholarship.
Endowed scholarships also can be designated for certain students. This is where the puzzle begins for Dille. Some are simply earmarked for students in need. Others are very specific, offered only to students from named counties in Iowa or interested in a career such as Christian ministry.
At Central, 28% of endowed scholarships are unrestricted; the other 72% are restricted with a clear designation.
Dille also works with incoming students and families on receiving federal or state aid such as a Pell Grant or the Iowa Tuition Grant. At Central, 28% of students are eligible for the Pell Grant, which ranges from $657 to $6,125 based on need. The Iowa Tuition Grant offers $6,000 to qualifying students (about one-third of Central's student body). Standards for both grants are determined after filing the Free Application for Federal Student Aid and calculating the estimated family contribution.
That money helps reduce the average out-of-pocket cost to Central students. Still, there remains an urgent need to fund scholarships.
"With the positive energy out there and being more transparent, more authentic, more open, we also need to be open that we don't have enough funding to be as generous as we want to be," Eighmy says. "But people are on board and excited. Central pride has never been higher."
WHY SCHOLARSHIPS MATTER
Chevy Freiburger, executive director of admission, has seen firsthand the effect of the new tuition price.
"Students and parents are eager to talk, they want to go through the process," he says.
That process is discussing a fit at Central. Freiburger and his admission team highlight personal attention, small classroom sizes, research opportunities and internships.
"When students leave here, they shine in a way that's different," Freiburger says. "It's a transformative experience. We give them that through scholarships, through affordability. We have to be competitive in the competitive market in Iowa."
No one benefits more from the tuition change and the ability to offer scholarships than students. They are the two biggest factors in recruitment.
"We get students from a variety of income levels — wealthy to needy," he says. "Each wants a scholarship. It's our way of acknowledging we want you here, that we feel you'll be a great fit and a graduate of Central. It's giving them a little gift, showing them some Central love."
Year after year, Freiburger sees graduates leave Central proud to be Forever Dutch®. That pride then turns into generosity.
If you want to help support students with the gift of a scholarship, visit central.edu/give or contact the Office of Advancement at 641-628-7604.
SCHOLAR DAY
Scholar Day brings together admitted students to compete for scholarships beyond what they've already been awarded. It's offered twice in the fall semester and twice in the spring semester.
Students have the chance to earn Central's most prestigious scholarships, up to full tuition; other Scholar Day awards from $500-$2,000 also are available.
Students and parents are invited for the day, beginning with a welcome from Central President Mark Putnam. From there, all students take part in a collaborative group discussion with faculty. This year, the topic was London surgeon John Snow, who ultimately solved the mystery of how cholera spread.
Parents, meanwhile, take part in a panel discussion with alumni and current parents. Prospective students also interview with faculty and staff and participate in a panel with current students.
Scholar Day participants enjoy a formal luncheon and can take full tours of campus and meet with financial aid administrators.
"That's the real starting point," Freiburger says. "It's their chance to come to campus, meet faculty, to be celebrated as a scholar and meet future peers. They want to impress. They're prepared for the day. They're great students we want in this community."
This year's Scholar Days were well received, bringing hundreds of students to campus to compete for scholarships and build relationships with peers and faculty.
For more information, visit central.edu/scholarships.
SCHOLARSHIP DINNER
The scholarship dinner is an invitation-only event each April to celebrate significant scholarship donors, whether annual or endowed.
This gives student scholarship recipients the opportunity to personally thank and share dinner with donors who help make their Central educations possible. More than 560 donors, students and parents attended the April 2019 dinner in P.H. Kuyper Gymnasium.
Scholarship recipients shared their Central experiences via video. Longtime Central donor Amy Dietrich Eilers '88 presented "My Central Gratitude Story: From Great to Grateful" and led an interactive activity that encouraged attendees to share their stories with each other.
"That human connection is huge," Eighmy says. "Donors see they are making an impact, that they are opening doors for students. Students see donors who care and who have personally invested in them as people."
The next scholarship dinner is scheduled for April 23, 2020.
CENTRAL STUDENTS GIVE THANKS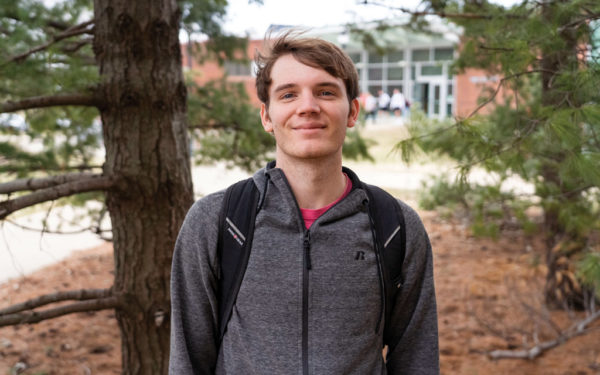 "Receiving this scholarship means a lot, and it's helping me achieve a goal no one in my family has before me. Without the generosity of donors like you, I couldn't afford to go to college. I thank you very much and hope everyone appreciates your donations as greatly as I do."

— Trevor Cormeny '20

HOMETOWN: Unionville, Iowa
MAJOR: Information Systems
SCHOLARSHIPS: Central Transfer, Journey, Breed, Houseman and Leu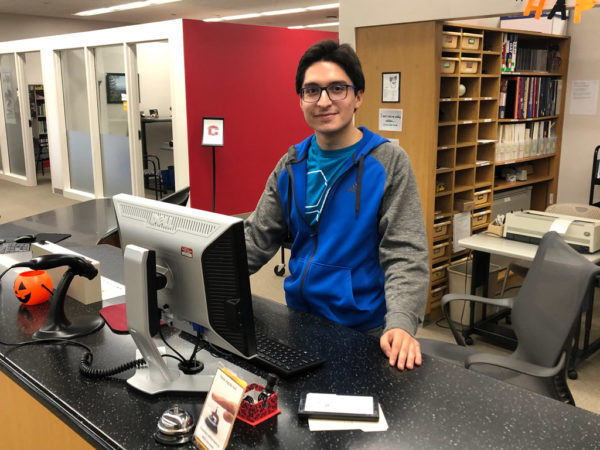 "A big part of my success is because of the amazing support I received from people like you. Your generosity takes pressure off me and my family and allows me to focus on what I'm here for — learning and studying. I'm beyond grateful for the scholarships I have received. If I didn't have scholarships, this wouldn't be possible."

— Efrain Garcia '20

HOMETOWN: Oskaloosa, Iowa
MAJORS: History and Spanish
MINOR: Philosophy
SCHOLARSHIPS: Trustee, Journey, Vander Lugt-Voss, Central Spanish Award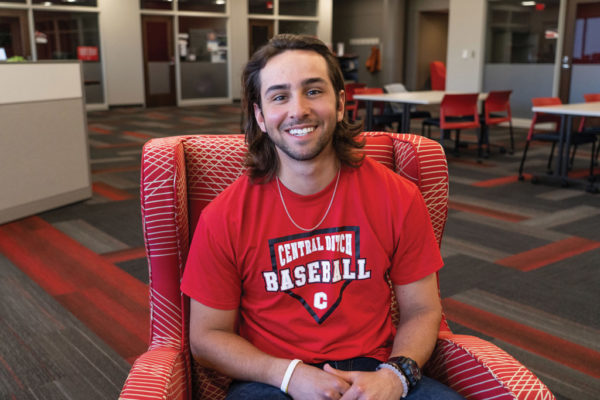 "Thank you for sponsoring me so graciously with one of your scholarships. I consider myself truly blessed to be a student here, and I have you to thank for this opportunity."

— John Horner '21

HOMETOWN: South Sioux City, Nebraska
MAJOR: Mathematics
SCHOLARSHIP: Pella Rolscreen