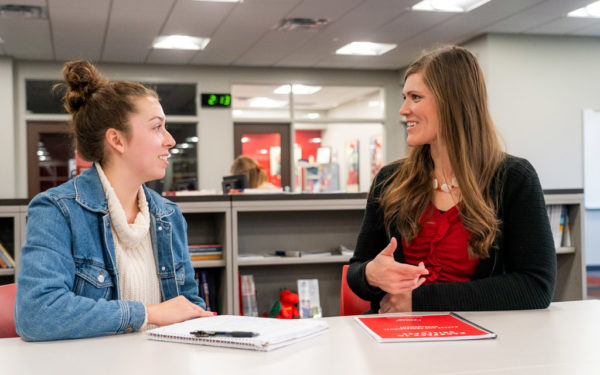 Students have four pivotal years at Central College to create the connections they'll need to formulate a lifetime of success. Central's programs and offerings prioritize these crucial encounters between students and top-tier influencers.
MOVE-IN DAY
Fresh coffee, tart lemonade and sugary donut holes: This trio of welcome refreshments sweetens Move-In Day at the start of Central College's fall semester. Incoming freshmen and their families are greeted by a bustling hive of students, alumni, faculty and staff busily hauling new students' belongings into their campus home away from home. Betty Balder Bollard '84 knows how crucial these first interactions are for the fresh wave of students and their parents.
"I want to be the warm, friendly face that greets the families with a smile and an encouraging word on what can be a somewhat stressful day," Bollard says. "It's nice Central has volunteers available to answer last-minute questions for incoming freshmen and their parents. The Move-In Day process says to parents, 'Yes, somebody here cares about your child.'
"The refreshments we offer are a sweet perk, too!"
Bollard is among a group of alumni who are teachers in Pella and have volunteered at Move-In Day for more than 15 years.
"Having alumni at welcome tents on Move-In Day is so important in welcoming the newest members of the Central family to campus," says Mary Benedict, assistant director of alumni relations. "It's a great example of how you are a member of the family even after graduation. It's fun when alumni volunteer at the tents at the residence hall they lived in, telling stories about when they lived there."
Central's expansive and invested base of alumni and friends interacts with students at every stage of their educational journey. Opportunities are sprinkled throughout the year, often organized around shared interests.
OFF-CAMPUS OFFERINGS
Central's economics, accounting and business management department (EAM) trip to Chicago, for example, is packed full of face time with business professionals in Chicagoland through informative and relaxed conversations with Central alumni.
The three-day trip's anonymous sponsor, from the Central Class of 1991, says her motivation behind funding the annual expedition is "to show students they can do anything and go anywhere with a Central degree."
Now in its third year, the Chicago EAM trip is a fantastic experiential learning opportunity for a select group of Central students majoring in business-related fields. Applicants are required to submit a résumé, information about their chosen majors and minors, and a statement about what they hope to gain from the experience. Spots are awarded by the two faculty members who staff the trip: Tuan Nguyen, assistant professor of economics, and Maggie Fisher Schlerman '02, associate professor of accounting, in consultation with all EAM faculty members.
"We really try to select sophomores and juniors who are likely to go to Chicago for an internship, to participate in the Chicago Semester or pursue a full-time job in Chicago after graduation," Schlerman says.
This year's crop of students included eight sophomores, three juniors and one senior with majors in accounting, actuarial science, business management, economics, management information systems and political science. They were whisked around Chicago by alumni and friends of Central, logging more than 10 miles of walking in two days, as they learned how a Central degree translates into real-world careers.
In addition to business tours, Central students were wined and dined by Central alumni at Smoke Daddy — known widely as "Chicago's best barbeque" — across the street from Wrigley Field. Alumni Kent Jager '80, Christine Epperly Ieuter '91 and David Bock '95 mingled with students. Huddled conversations peppered the dining room as alums circulated among students, with the old-timey backdrop of a live bluegrass band.
"The Chicago trip opened my eyes to opportunities in a different environment and location that I would never have been introduced to without Central and its amazing alumni," says Luke Lubbers '22, an undeclared major from Winterset, Iowa.
CHICAGO EAM TRIP
▲ Dean Chapman'86, former director of supply chain at Walgreens, kicked off the Chicago business tours in the board room. Students were intrigued by the two-year rotational strategy used to give new hires a well-rounded perspective on supply-chain processes. Qualitative anecdotes revealed most employees emerged from rotations with a newfound respect for jobs they hadn't been interested in pursuing. Central students found this model attractive in its intention to give new employees the opportunity to explore the wider workplace before committing to a narrower career track. "I like the idea of trying different areas before making a decision," says Zach Goering '22. 
David Bock '95, vice president of operational risk at the global financial services firm ABN AMRO Clearing, made the Central student visitors feel the Dutch love with an offering of stroopwafels. ABN AMRO's storied history as a Dutch bank echoes the Pella heritage. Internship possibilities at ABN AMRO were appealing to Central students, given the globetrotting opportunities to Australia, the Netherlands and more. Bock double majored in math and computer science, minored in business management and participated in Central's London study abroad program.
▲ Mackenzi Huyser is executive director of the Chicago Semester program. Central was one of the founding members of the Chicago Semester program. The Chicago Semester recently moved offices to 1871, Chicago's center for technology and entrepreneurship. 1871 is a business incubator dedicated to Chicago's digital startup community. This modern hub is home to nearly 500 fledgling tech firms. Central partners with the Chicago Semester as an off-campus program for qualified juniors and seniors of any major. The semester-long classwork and internship equips students for integrated personal, professional and public lives through internships, academic seminars and access to networking in the third-largest city in America.
Founded in 2012, its name was inspired by the ingenuity in rebuilding after the infamous 1871 fire engulfed the city. Huyser gave Central students a tour of the workspaces that house startup businesses such as Cameo, a company tech firm that allows users to pay celebrities (often $100 or more) to send custom video shout-outs to their friends and family and got its start at 1871. Colleges such as Northwestern University and global companies also share the space.

▲ Tammy Williamson Chase '90, director of communications and media relations for Chicago Transit Authority, graduated from Central with a degree in political science. Central's liberal arts curriculum equipped Chase with the ability to thrive in a variety of fields outside her major, including journalism, marketing, communications and media. Chase emphasizes the importance of creating connections with people who have more experience or can offer valuable insights. She often invites these professionals to chat over a cup of coffee — a bold move she says many young grads have yet to master. "Bring your 'A' game every day to what you're doing," Chase says.
Learn more about Central's Chicago Semester: central.edu/chicago-dc.
HANDSHAKE
Connecting with alumni and Central partners is easy for students. In fact, all it takes is Handshake. Handshake is a digital community created for students, recent grads, employers and career centers. Handshake lets students:
Access Central's Career and Professional Development resources and create appointments with staff.
Discover career opportunities.
Get job and internship recommendations.
Ask for advice from fellow students who got great jobs.
Central College is connected through Handshake with 1,500 employers, locally and nationally.
Employers have posted more than 4,000 jobs for Central students since August 2019.
Central students have submitted 90 applications for jobs posted in Handshake.
Employers can find future leaders at central.joinhandshake.com. Handshake connects employers, talent and colleges in one convenient location.
CAREER KICKSTARTER
Central sophomores can participate in a new, weeklong Career Kickstarter program offered during winter break.
This program has guaranteed "micro-internships" — a one-week shadowing experience — with local alumni or other professional mentors to engage with a local organization. Participants do in-depth career exploration and career planning workshops on such topics as networking, résumé preparation, the use of professional social media and how to apply and prepare for an extended internship.
"As a psych major with plans to continue my education beyond Central, I was pleased that Kickstarter included a session on applying to grad schools," says Abby Malecha '22. "That was unexpected and very helpful."
The reality of the working world is that employers want more and more experience for entry-level positions. The Career Kickstarter program gives students a jumpstart early in their educational journey, with additional internship opportunities down the road.
"Employers are engaging with students earlier and earlier in their college careers and want to see workplace experience on their résumés," says Jessica Klyn de Novelo '05, Central's director of career and professional development. "And Central has a large and enthusiastic local alumni base that's eager to provide such experiences. I see it as a natural way for students to make connections off-campus and gain professional experience early in their time at Central."
WOMEN'S LEADERSHIP CONFERENCE
Central introduced "Leadership for the Common Good: Women's Leadership Conference" in Fall 2019. The three-day conference gave Central juniors, nominated by faculty and staff members, the opportunity to meet with regional female leaders. These leaders, including Iowa Gov. Kim Reynolds, are experts in their fields and embody character traits that set an example for women scholars and future leaders.
"Participants learned about teamwork, civic leadership, curiosity and entrepreneurship, and honed negotiation skills," Klyn says.
Central women visited with businesses and nonprofits in Pella and Des Moines. The conference was made possible through funding from the Monticello College Foundation, the Vermeer Charitable Foundation and private donors.
"Each day after spending upward of eight hours speaking with successful women, I felt more confident in my abilities," says exercise science major Jaiden Ackerson '21. "I feel comfortable going for my goals. It was refreshing to see so many women doing exactly what they want to be doing and know that I can, too."
CONNECTION QUEEN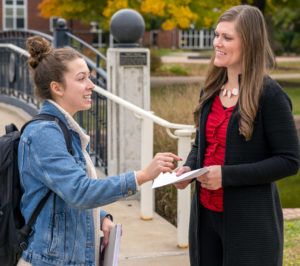 Director of Career and Professional Development Jessica Klyn de Novelo '05 (right) is Central students' go-to resource for career connections.
HOMETOWN: Pella, Iowa
MAJORS: Spanish and Art
CAMPUS ACTIVITIES: Spanish Club, Art Club, Modern Language House and Work Study
STUDY ABROAD: Mérida, Mexico (two semesters), and Hangzhou, China (summer)
INTERNSHIP: Uxmal de Taxco, Mérida
Jessica Klyn de Novelo '05 began working at Central immediately after graduation. Her work always has focused on building relationships and helping connect students to opportunities that give them a chance to move out of their comfort zones, experience something new and put into practice what they're learning in the classroom.
"Central has a long, successful tradition of excellence in high-impact practices including service, internships, study abroad and undergraduate research," Klyn says. "There's nothing more rewarding than seeing students have aha moments when they begin to see connections between their studies, interests and passions, and the unique ways they can apply those in their lives. The joy is really compounded when alumni step forward and offer to help make these experiences happen."
A former Rotary Ambassadorial Scholar, Klyn currently serves as the Rotary Youth Exchange coordinator for the Pella Rotary Club while also serving on its board. In addition, she volunteers for Iowa Justice for Our Neighbors, translating for lawyers and clients in asylum cases for Spanish speaking immigrants. Recently, Klyn translated an asylum case for an immigration attorney, also a Central alum, who takes these cases pro-bono.
Klyn's significant accomplishments and deep commitments to her communities earned her recognition as an Emerging Leadership winner with the Iowa Campus Compact in May 2019.
"THE POSSIBILITIES ARE TRULY ENDLESS."

—Jessica Klyn de Novelo '05
OTHER OPPORTUNITIES
Central has many more opportunities for students to make connections that will guide them toward success. Central is dedicated to building those connections and encouraging positive relationships between students and their communities.
Students can attend Central's internship fair and discover internships to earn academic credit at organizations in Pella or a quick drive away in nearby communities such as Des Moines, Johnston, Grinnell, Newton, Oskaloosa or Knoxville. "Pella is home to global organizations that offer excellent work and internship experience," Klyn says. "Beyond the resources close to campus, Central supports students wherever they want to intern. That means identifying opportunities close to wherever they call home, in their dream city or around the world through Central's study abroad programs, which offers the chance to do something like work alongside a member of parliament in London. The possibilities are truly endless."
In addition, students can participate in mock interviews to prepare them for future careers. Each semester several days are dedicated to honing students' interviewing skills. Human resources professionals in the community conduct one-on-one interviews with students as if the student was seeking a real internship or job at that company.
"Mock interviews allow students to gain experience, get targeted feedback and give employers insight about Central and its students," Klyn says.
MAKE THE CONNECTION
How can you help make a connection for Central students?
Share your time. Devoting quality time to students is a simple expression of their worth within the Central community and the future of the working world. Visiting a class and answering questions, attending an on-campus event or participating in student-led activities are simple and effective ways to share your time with Central students.
Share your knowledge. Tell stories from your authentic experiences, especially ones that highlight mistakes and failure. We all know mistakes often produce the most valuable lessons and set up the next success.
Share your resources. Scholarship donations and other giving paves the way for more active learning by students. If you're passionate about a certain field, would you want to support a program similar to the EAM Chicago trip for a major or group of majors in a city near you?
Open doors. Post internships and jobs at Central at central.joinhandshake.com.
Creating connections with students is as simple as visiting campus and dining at Central Market during lunch hour. Want to connect with students in any of the ways mentioned above? Contact Mary Benedict at benedictm@central.edu.