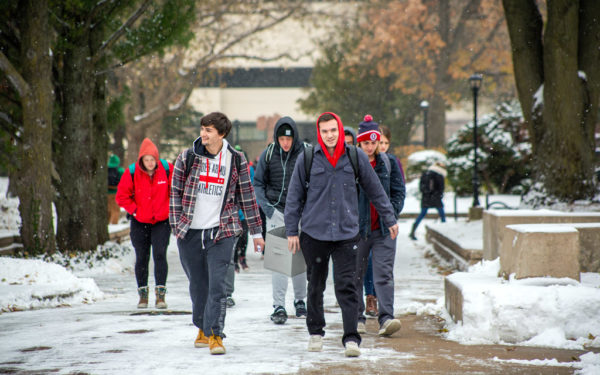 NOEL COVER FOUNDATION GIFT
Central recently received a $50,000 gift from the Noel Cover Foundation of Cozad, Nebraska.
Central is one of four colleges that receive regular gifts from the foundation and the only Iowa institution represented. Since the foundation was established in 1972, Central has received $1,236,000 in support leading to 273 scholarships for 120 students.
The foundation provides scholarships to needy, deserving and promising young men from Iowa, Colorado, Wyoming or Nebraska who attend one of the following four colleges: Central, University of Denver (Colorado), St. Olaf College (Minnesota) and Hastings College (Nebraska). Recipients must study in fields related to science, scientific research, mechanical engineering and craftsmanship, medicine, medical research or social science.
"We are extremely grateful to the Noel Cover Foundation for its significant, long-term support of Central College and its students," says Sunny Gonzales Eighmy '99, Central's vice president for advancement. "Many Central students have benefitted from the foundation's gifts during the past four decades."
---
WORLD FOOD PRIZE LECTURE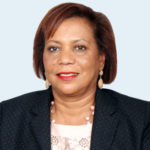 Maria Andrade, a native of the Cape Verde Islands, presented Central's annual World Food Prize lecture in October at Cox-Snow Recital Hall.
Andrade received the prize in 2016 for helping develop disease-resistant, drought-tolerant, high-yielding varieties of orange-fleshed sweet potato that can flourish in the variable soils and climate of sub-Saharan Africa.
It was a breakthrough that reduced the devastating effects of vitamin A deficiency, which contributed to high rates of blindness, diarrhea, immune system disorders and premature death in children and pregnant women in Africa.
---
IHSSA HALL OF FAME
Dennis Doyle, professor of communication studies at Central, was inducted into the Iowa High School Speech Association Hall of Fame in October. Doyle has been a coach and longtime judge for the IHSSA. He started judging in 1989 when he started at Central.
Doyle has judged at all levels for the IHSSA, including district, state and all-state in both the individual and large group areas. He is the only person ever to judge all six areas in one year.
"I was a bit overwhelmed, but I feel gratitude for the recognition by the IHSSA and proud of my association with the excellent speech education occurring in our state," Doyle says.
Doyle was joined at the ceremony by fellow honoree Marilyn Shaw, an instructor at the University of Northern Iowa in Cedar Falls. The two became the 66th and 67th inductees since the hall's founding in 1976.
---
UNDERGRAD RESEARCH
Elizabeth Sheldon '21 and Lexi Engen '21 presented "Voted Most Popular: Which Prairie Plants Attract the Greatest Number and Diversity of Native Bees?" during the Summer Undergraduate Research Symposium in Geisler Library. It was one of 15 projects by students who worked full time on the research throughout the summer. Sheldon is an environmental studies major from Chandler, Arizona, while Engen is a biology major from Center Point, Iowa.
---
SPORTS LEADERSHIP SEMINAR
Central offered a Sports Leadership Seminar to area high school athletes and coaches in January. Three 90-minute sessions were conducted on consecutive Sundays.
Athletics director and head wrestling coach Eric Van Kley, senior associate athletics director and associate head softball coach Alicia O'Brien, head softball coach George Wares '76 and head football coach Jeff McMartin '90 facilitated the seminar with special guest instructors and members of Central's Student-Athlete Advisory Committee. Each session featured presentations, breakout discussions and group activities.
"Leadership has always been viewed as important in athletics, but in recent years, more and more teams and coaches have discovered how critical a role it really plays in a successful program," Van Kley says. "Central has become very purposeful about developing better leaders on our teams through leadership councils. It makes sense to extend that support to high school teams."
"Central's facilitators are uniquely qualified to lead the sessions," Van Kley says. "Leadership development is a passion for each of them. They are longtime students of the subject beyond the experience they've gained as coaches. Coach McMartin is an instructor at leadership camps across the country each summer. Coach O'Brien and Coach Wares have provided leadership instruction in numerous settings throughout Iowa and around the U.S."
---
SECRETARY NAIG VISIT
Iowa Secretary of Agriculture Mike Naig visited Central's campus in November to present "Conversations on Clean Water in Iowa."
---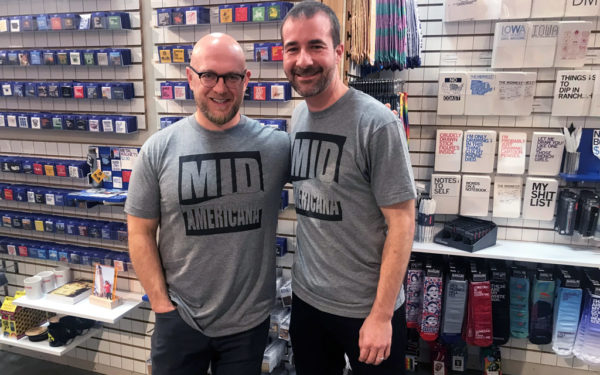 MID-AMERICANA LAUNCH PARTY RAYGUN
Des Moines hosted a launch party for the podcast "Mid-Americana: Stories from a Changing Midwest" in November. It is a project of Central College professors Joshua Dolezal, left, professor of English, and Brian Campbell, director of sustainability education. You can listen to the first season, available on the website www.midamericana.com, and it can be downloaded through Apple, Google Play, Spotify and Stitcher.
---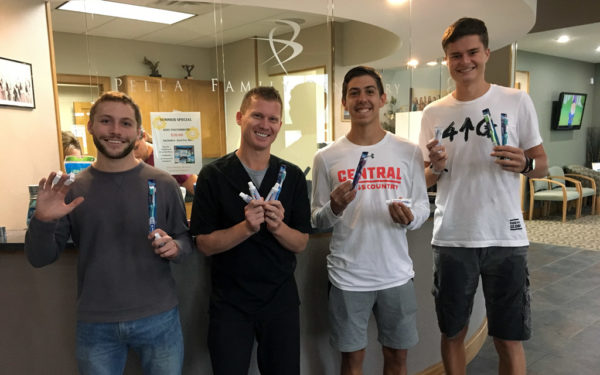 TOOTHBRUSH CLUB
Central's Toothbrush Club is the newest and largest student club on campus with 546 members. Micah Vermeer '05 (second from left), dentist at Pella Family Dentistry, donated toothbrushes and toothpaste to the club for one of its meetings.
---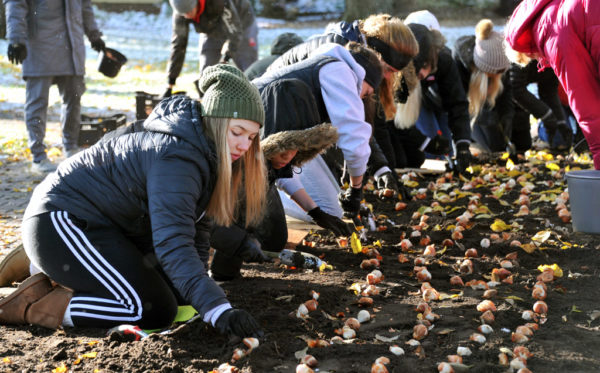 SERVICE DAY
Central held its annual Service Day Oct. 29 with more than 600 volunteers taking part in nearly 50 projects. Students, faculty and staff volunteered in Pella, Knoxville, Newton, Oskaloosa and the Des Moines metro area.
The milestone event has been part of Central's commitment to service-learning since 2006. More than 45 academic courses across 15 departments have semester-long components in service-learning.
"Service Day is just one component of our holistic approach to service-learning and community engagement," says Cheri Trout Doane '98, director of community-based learning. "Service Day really complements what we do year-around. It's an activity that advances our ability as students, faculty and staff, along with the college and community partners, to strive to reach potential."
Each year during Service Day, tulip bulbs are planted for the Pella Historical Society and Museum in preparation for Tulip Time. Other projects this year took place at the Children and Family Urban Movement in Des Moines and the Centre for Arts and Artists in Newton.