RURAL STUDENTS ROCK!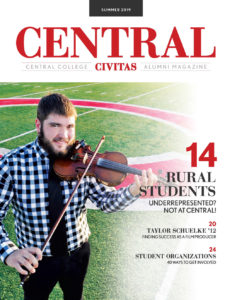 Loved your article on rural students ["A Shining Exception," Summer 2019 issue, page 14]. As an associate professor of education, psychology and public policy at The University of Virginia and director of its Motivate Lab, I do research on student motivation, among other things. We're doing a lot of work in higher education to help make institutions more supportive of students, including rural students. So it's great to see you shining a light on this, and also tooting Central's horn a bit!
I do want to point out what I think is a minor error in the article: Just because rural students make up 7% of the college population doesn't mean that the average percentage of rural students enrolled in universities is also 7%. To get the average percentage of rural students at U.S. universities, you would average the percentage from each university. For example, if rural students are concentrated in a handful of institutions, then the national average of the percentage of students who are rural is likely to be lower than what you're stating. However, it could be the opposite. The implications are that you may be understating or overstating Central's position, but without knowing the national data, it's impossible to know.
– Chris S. Hulleman '93
We thank Professor Hulleman for pointing out the unintended flaw in our logic. In an attempt to find an accurate figure, we consulted with the U.S. Census Bureau, the U.S. Department of Education and the National Association of Independent Colleges and Universities. Unfortunately, none of these organizations directly track the average percentage of rural students attending U.S. colleges and universities. – ed.
CENTRAL IN THE DEAD SEA
"Mandy Spangler Manning '98 is traveling with her husband Grant Manning '96 and two kids this year. She clearly knows the importance of taking along good reading material."
– Kathy Cashen Thompson '87
To follow the Mannings' progress, see "Manning the Globe" on Facebook or check out their blog at manningtheglobe.co. – ed.
I SAW THEM LAST!
I read "Central's Great Art Heist" [Spring, 2019 issue, page 33] with great interest.
It stated that the theft took place between Thursday evening and Tuesday morning. The reason Central knew that is because I was in the library that Thursday night studying and was looking for a small room in which to study. I happened to open the door to the room and saw the paintings. I did not know that they were there until then. When I saw them, I just closed the door and moved on to the next door.
When I heard the next week that the paintings had been stolen I told Dean of Students William Hinga that I saw the paintings in the room Thursday night.
It was fun to read my little part in a 35-year-old painting heist story!!
– Leah Zeutenhorst Tokheim '86
HOMECOMING 1949
I just received the college's Homecoming announcement and was moved to unearth an old DVD I put together years ago. I modified an ancient 8mm film projector so I could transfer 70-year-old movies (one frame at a time) to my computer and convert them to video. The movie's 16 frames/second required capturing each frame twice to get near the 30 frames/second of today's video. The 27-minute DVD contains many views of the campus: the sophomore-junior baseball game, the Frosh-Soph Pull, the Homecoming Parade, the Tulip Festival, etc. I just made a copy of the DVD for your archives and will put it into today's mail to you.
Finally, I was surprised and delighted to see my six photos in the latest Civitas.
— Don Burns '50
We liked Burns' delightful video of a midcentury Central homecoming so much we asked him if we could edit it for length and post it on our website. He was gracious enough to say yes. We'll let you know where to find it as soon as it's posted. Meanwhile, if you missed his photos of student life at Central in the late 1940s, you can find them on page 4 of the Summer 2019 issue. – ed.
REMEMBERING 1969
In "50 Years Ago at Central" [Summer 2019 Issue, page 35], we invited anyone on campus during that year to share photographs and memories. Barbara Slaybaugh Feichtinger '73 sent us these:
R.A. Claudia Darnell Templeton '72 bobbing for apples at a Halloween party on third floor north of Graham Hall, October 1969.
---
Corrections:
On page 18 of the Summer 2019 issue we said the multitalented Brandon Rosas '20 was active in contradance, among other things. Not so: when it comes to dance, salsa and ballroom are his preferences. Civitas regrets the error. – ed.