Sept. 10, Central College introduced a new annual tuition of $18,600 for Fall 2020.
In addition, the college announced it has launched a number of new initiatives to support students in all stages of their education and beyond graduation.
The price change brings a new approach to tuition in Iowa, offering transparency to what students and families actually pay. Previously, tuition at Central was offset with high financial aid and scholarships, and virtually all students paid far less than the published price, a practice used by nearly all colleges and universities.
"Central views it as our responsibility to help bring rationality to the price of a high-quality college education," says Mark Putnam, college president. "Central's new tuition and financial aid pricing are clearer and easier to understand. It's an important commitment to our students, families, alumni and donors."
This commitment to affordable pricing is the first such initiative of its scale in Iowa. With scholarships, Central's price is comparable to Iowa's public universities and significantly lower than other private colleges in Iowa. No current Central student will pay more in 2020-21 than they do in 2019-20, and prospective students can apply without being deterred by a high published tuition rate. The price for room and board remains the same.
"CENTRAL VIEWS IT AS OUR RESPONSIBILITY TO HELP BRING RATIONALITY TO THE PRICE OF A HIGH-QUALITY COLLEGE EDUCATION."

– PRESIDENT MARK PUTNAM
MORE SCHOLARSHIPS
Central will continue to offer scholarships and financial aid in proportion to its new tuition price. In fact, Central now offers more scholarships than ever before.
"We've never raised more money for annual scholarships than we have in the past year," says Sunny Gonzales Eighmy '99, vice president for advancement. "We now also have more endowed scholarships for students than ever before."
In the 2018-19 fiscal year, more than 4,000 alumni and friends donated over $4.6 million to support Central's students and community. The college witnessed a record fundraising year for the Journey Scholarship Fund, which directly supports students. In addition, the number of endowed scholarships grew, with 10 new scholarships formed, bringing the total to 270.
NEW PROGRAMS
The college also launched a number of new initiatives to enhance the student experience, boost the value of a Central education and promote the career readiness of its graduates.
For students who meet specific standards and expectations for progress toward a degree, Central guarantees graduation in four years or the ninth semester tuition is free. In addition, every student in good academic and social standing will be offered at least one internship, shadowing experience or community service opportunity.
"We are committed to the success of our students and that's why we are doing this. These assurances allow students to join the Central community knowing they are receiving an affordable education with incredible value—and knowing they will be supported in their success now and beyond graduation," Putnam says.
CENTRAL IS ADDING:
Career Kickstarter, a weeklong, career-focused program available to all sophomores as they explore career possibilities.
A new varsity sport, women's triathlon, to start in Fall 2020. Central is the 31st school in the nation and second in Iowa to offer women's triathlon.
Two new club sports, men's volleyball and women's bowling, with the possibility of both becoming varsity sports.
A handful of new clubs and organizations, including clay target sports.
A campus chapter of Alpha Alpha Alpha, an honor society for first-generation students.
Membership into the National Society of Leadership and Success, the nation's largest leadership honor society.
"We're thrilled about the college's momentum," says Tej Dhawan '91, chair of the college's board of trustees. "We've just recruited our largest class in five years and invested in so much more.
"With our goal to continue this incredible momentum, addressing college tuition seemed important to Central's mission of providing access to a high-quality, liberal arts education for more people," adds Dhawan, a Des Moines entrepreneur. "Our new tuition puts Central's price below that of most colleges and universities. This, combined with our excellent faculty, programs and aid, makes a Central degree more valuable than ever."
TUITION AT CENTRAL IS JUST $18,600 PER YEAR.
AND SCHOLARSHIPS ARE STILL AVAILABLE.

Central is more affordable than ever–with a total cost to attend comparable to state universities. And that's before applying for financial aid and scholarships!
We also guarantee each Central student: an internship, shadowing or service experience; graduation in four years; and a free, weeklong Career Kickstarter during sophomore year.
These opportunities save Central students money. Provide marketable skills. And allow students to graduate and earn a paycheck sooner. Central guarantees these experiences to every Central student who meets certain basic criteria. Students graduate with stellar credentials, strong connections, unforgettable mentors and an education that opens doors for a lifetime.
That's the Central Way.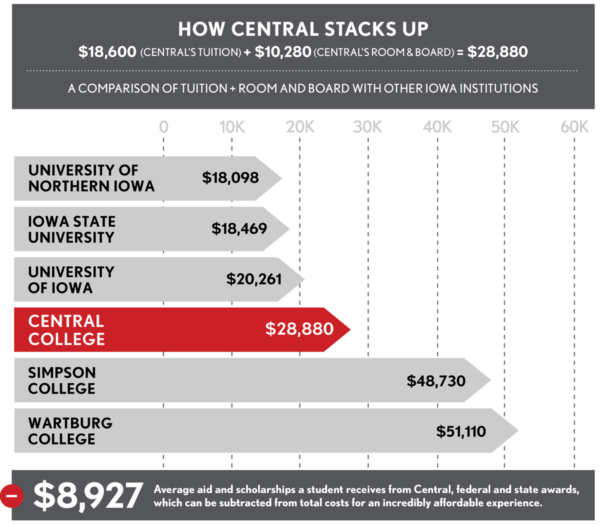 Central offers the new tuition and programs under the umbrella of a high-quality, liberal arts degree. The college will continue to offer academic programs in STEM (science, technology, engineering and mathematics), pre-professional programs in health care and dozens of hallmark programs such as business, psychology and education as well as historic strengths in social sciences, humanities and arts.
The college's student-to-faculty ratio is 11:1. Students leave Central headed for success. In fact, 97% are in the workforce or in graduate school following graduation.
"While the price is changing, the value you get for it is not. Central simply is making it easier to understand the affordability, benefits and value of its education. It's the Central way," Putnam says.
A LEADERSHIP POSITION
Central's pricing commitment places it at the forefront of a growing number of colleges and universities nationwide that are leaving the high-tuition, high-aid pricing model.
According to an April 2019 study by Lucie Laposvsky, an economist, higher education consultant and former college president, 24 private colleges adjusted their published tuition prices between Fall 2010 and Fall 2016; 23 more reduced tuition between 2017 to 2019. Those include such well-established, nationally-known institutions as Drew University, Elmira College, Mills College, Rosemont College and St. John's College.
Virtually all are announcing new tuition prices for the same reason Central is: to make clear the actual cost of attendance so students and families don't rule out applying based on a published price that is much higher than most students actually pay.
Central's senior leadership team credits careful planning with the announcement's success. "We learned from others' examples," Putnam says. "Plus, Central is making this change from a position of strength. Central remains strong and in great health as an institution because of the incredible loyalty and spirit of generosity shown by so many in our Central family."
REACTIONS TO THE ANNOUNCEMENT
"EXTRAORDINARILY PROUD"
"I'm extraordinarily proud of Central College for making an eye-opening, life-defining college education available to more students and families who may have, in the past, decided the price to attend was higher than they could ever consider. This represents an important step toward greater levels of awareness, access and inclusivity that significantly increases the chances of perfect student+college pairings. In my book, that's a win-win for higher education."
– Eric Sickler '83, vice president for client services at the Thorburn Group, a higher education marketing firm, from his article "It Isn't the Cost of College That's the Problem, It's the Price" in the Sept. 12 edition of Inside Higher Education
"HISTORIC"
"I can certainly tell you, within the state of Iowa, this is historic. Their new published tuition is (about) half of what it was. I'm sort of at a loss for words. I think it's the most rare thing that I've seen in public or private education."
– Gary Steinke, president of the Iowa Association of Independent Colleges and Universities and former executive director of the Iowa Board of Regents, quoted online Sept. 10 in the Des Moines Register
"ABANDONING THE MYTH"
"Another private sector college (@CentralCollege) makes substantial tuition cut, abandoning the myth that "if we charge more people will think we are better" that's plagued #HigherEducation for too long."
– Bob Johnson, creator of "Your Higher Ed Marketing Newsletter," via Twitter
"WALKS THE WALK"
"Bold move in #highered. @CentralCollege walks the walk to fight #StudentDebtCrisis. #GoDutch."
– Kyle Munson '94, former Iowa columnist at The Des Moines Register, via Twitter
"START A TREND"
"Price shopping for colleges is very difficult and some people might think impossible. That's why I was glad to learn that one of Iowa's well-respected private colleges, Central College in Pella, Iowa, has lowered its tuition from $36,800 to $18,600 to better reflect the actual cost. Yes, that's right, they reduced their college tuition by $20,000 a year. Maybe [Central] will start a trend."
– Sen. Charles Grassley, R-Iowa, on the Senate floor, Sept. 12
For more information:
Chevy Freiburger
Executive Director of Admission
641-628-7637 or freiburgerc@central.edu
Wayne Dille
Director of Financial Aid
641-628-5336 or dillew@central.edu
For a list of answers to Frequently Asked Questions: central.edu/tuition-faq