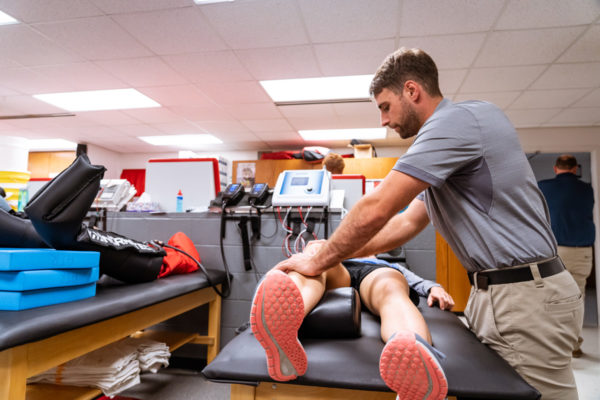 Taryn Pennington '13 understands there is an ongoing stigma to battle with athletic training.
"People who don't understand it think all we're there for is to give out water and tape ankles," she says.
It couldn't be further from the truth. Athletic trainers are an extension of health care, there to "provide preventative services, emergency care, clinical examination and diagnosis, therapeutic intervention and rehabilitative care," as described by the National Athletic Trainers' Association in its March 2019 campaign #ATsAreHealthCare.
For more than three decades now, Central College and its program have put hundreds of qualified athletic trainers into the workforce.
Pennington is one of them. She's currently at what she calls a "dream job," working as a high-performance health care services provider, contracted out to the United States Olympic and Paralympic Training Center in Colorado Springs, Colorado.
"Since my freshman year of college, my goal was to work for the Olympics or Team USA in some capacity," she says. "At the time, I didn't know what that looked like or what the process was to get to that level."
What she got at Central certainly was the first step, as it has been for 171 students who have become certified athletic trainers through Central's program. At least another 75 went into other fields such as physical therapy, occupational therapy, chiropractic or medicine.
There currently are 12 seniors in the program, with another eight juniors and six sophomores set to finish the program under its current setup. Changes are coming— namely a move to a pre-athletic training program—but Central has set itself up to remain a leader in athletic training.
"The history and reputation of our program is out there. People know," says John Roslien, associate professor of exercise science and director of athletic training. "If you want to be an athlete, be on student council, study abroad, do all the things we talk about doing here at Central and still get to graduate school in athletic training, this is a heck of a place to go to school."
"IF YOU WANT TO BE AN ATHLETE … AND STILL GET TO GRADUATE SCHOOL IN ATHLETIC TRAINING, THIS IS A HECK OF A PLACE TO GO TO SCHOOL."

– John Roslien
associate professor of exercise science and director of athletic training
PAST, PRESENT, FUTURE
Roslien was the first athletic trainer at Central, hired in 1986 by legendary football coach and then-athletics director Ron Schipper. He worked in a closet-sized room, attached to the men's locker room, that smelled a bit moldy. Supplies were limited and athletes didn't fully understand the duties of an athletic trainer.
He survived the first year and eventually moved into the new A.N. Kuyper Athletics Complex. As Roslien became more comfortable, he pitched the idea of starting an athletic training program. With support from Schipper, former President Kenneth J. Weller and other faculty members, the program was born.
In 1990, Central graduated its first certified athletic trainer. Leslie Keuning Duinink '90 went on to become an associate professor of exercise science at Central and is now the college's registrar.
In 2004, Central was accredited by the Commission on Accreditation of Athletic Training. That was milestone day, Roslien said.
"September 15, 2004," he says. "I'll never forget that. That was a big deal."
In the program's infancy, students could major in anything and needed only six classes and 1,500 hours of documented experience. Central's athletic training experience now is a demanding major, with classes ranging from athletic injury assessment to human anatomy and kinesiology.
Hands-on experience starts with 10 three-week clinical rotations as a sophomore. Every junior does a rotation with the football program. Seniors often work an internship in a chosen setting.
"We've always had a strong commitment to getting our students into the world and preparing them so they can go where they want to go," says Shelli Green '07, instructor and clinical education coordinator of exercise science. "John always says our program will prepare you to do whatever it is you want to do. I believe that's the truth."
This year's sophomore class is the last at Central able to earn a degree in athletic training. They will graduate in 2022, ending the accredited undergraduate program.
At the national level, athletic trainers will need a master's degree, per CAATE, to become certified starting in May 2025. Central's 10-year accreditation is up next fall, meaning it would have had to go through the accreditation process again and meet all requirements. That includes offering a master's degree—something currently outside the scope of Central's mission as an undergraduate college. Central will instead offer pre-athletic training, which joins other pre-professional programs on campus like dentistry, medicine and nursing.
Central's will remain a four-year program, preparing athletic trainers to move on to graduate school. There already are articulation agreements in place with three Iowa colleges and universities— Drake, Grand View and Loras—which essentially save spots for Central students in these institutions' graduate programs.
"Students and high school admission counselors recognize that what we've done at the undergraduate level was really good, so they're anticipating our pre-athletic training program will be good as well," Roslien said. "They're flooding here with the idea they'll get a good foundation and go on to graduate school."
"IT WAS PHENOMENAL"
For Shane Nelson '11, baseball was life. It was a family thing, a love affair he carries.
He grew up around the softball fields his parents played on. They took him to minor and major-league ballparks in the summer. He started playing as soon as he could. His brothers played in college.
Nelson, a native of Iowa City, naturally gravitated toward baseball as a career. He interned with the Iowa Cubs during the summer between his junior and senior years. Another internship with the parent club, the Chicago Cubs, at their spring training facility in the spring of his senior year led directly to a job.
Nelson spent a year working as an athletic trainer for the Cubs' rookie league team in Mesa, Arizona. He then headed back to the Midwest for two summers, working for Cubs' Single-A affiliates in Peoria, Illinois, and Geneva, Illinois.
He moved to Double-A and Knoxville, Tennessee, for the 2014-15 seasons and back to the I-Cubs in Des Moines for the 2016-17 seasons.
"CENTRAL DID AN OUTSTANDING JOB PREPARING ME … THAT FEELING OF, 'I GOT THIS.'"

– Shane Nelson '11
athletic trainer, Boise State University
"Central prepared me well, but I also had a lot of learning to do," Nelson says. "That's not a knock on the program at all. I passed my board exam the first time. I felt comfortable with that. I felt comfortable with treatments and evaluations and doing everything I needed to do. But there's just no way to prepare to start making those decisions yourself.
"But that feeling of, 'Hey, this is your guy to rehab or this is your team to monitor,' that's something Central did an outstanding job preparing me for. When I was out on my own island, when I was the guy, I felt confident in my ability to not freak out. Central gave me that feeling of, 'I got this.'"
Nelson took a year off from baseball and athletic training before getting back into it at Boise State University in Idaho. Through a connection with the Broncos' coach, who had been a manager in the Cubs' organization, he joined the baseball program in January. Boise State is starting a baseball program for the first time since 1980.
Through the process and throughout his time with the Cubs, Nelson leaned on the familiar from Central for advice.
"Every time John was in Arizona, we would meet up for dinner. I've always kept in touch with him and keep in touch with most of the professors I had in the program," says Nelson, who is pursuing his master's degree at Boise State. "That's really unheard of at most schools. I really can't say enough about the experiences I had at Central. It was phenomenal."
OPPORTUNITIES ABOUND
Pennington credits Roslien for her career path, citing her visit to Central while she was a high school student in the St. Louis area.
"He was the reason I came to Central, the reason I pursued athletic training," she says. "Sitting down and talking to him, he explained the program and all the opportunities I could have. My original plan was pre-med, to go into sports medicine, to be a physician."
Opportunities are what Roslien has preached to athletic training students from the start. He's a firm believer in the liberal arts education Central provides, while also giving students many experiences in athletic training to make an informed decision about their future.
"As an incoming student, they're looking for that," he says. "We can cultivate that and make that happen. If you want to be in women's basketball or the NFL or baseball or in a fitness center in Davenport, we can make that happen. We have those kinds of opportunities available. We've done that. We have a history of doing that."
After leaving Central, Pennington earned her master's degree at Ohio University while also working as a graduate assistant at a local high school. Her first full-time job came back at Central before she moved on to Reinhardt University in Georgia. She landed her job in Colorado Springs in February 2018, despite thinking she bombed the interview. It's taken her places, most notably to the Pan-Am Games this summer in Lima, Peru.
"It was amazing, just a great experience to represent Team USA in an athletic training environment," Pennington says. "I'm still kind of in shock to think back and realize I was there and got to work with some of the best athletes in the world on that high of a stage."
Pennington also has earned her doctoral degree in athletic training from A.T. Still University in Mesa, Arizona, and would like to either return to the educational side of athletic training as a clinical coordinator or become a sports medicine director at the collegiate level.
She credits Central for making it all possible.
"At Central, you learn a lot of the basics; they were ingrained in us," she says. "All the professors I had at Central did a great job preparing me academically, as well as hands-on. They did a great job helping me be ready and comfortable to pursue that master's degree."
THE FUTURE IS BRIGHT
With the changes ahead, preparing students to pursue a master's degree now becomes the job of Roslien and staff. Many also teach in the exercise science program, and the two certainly will be tied to each other.
Pre-athletic training students will spend four years at Central, able to earn a four-year degree in whatever they choose before moving on to graduate school. Most athletic training programs are 3-2, meaning three years at one institution before moving on to two years of grad school.
Roslien, however, is quick to point out the benefits of being at Central all four years.
"I'm a firm believer in being broad-based. I want my students to have as much wide-ranging experience as they can have. I think that's valuable," he says. "The other thing a four-year experience does here is offer athletes the chance to compete that fourth year. You don't have to choose athletic training over athletics."
Roslien has been asked a lot lately if the change is hard to see. In some ways, yes. In others, no.
"I WANT MY STUDENTS TO HAVE AS MUCH WIDE-RANGING EXPERIENCE AS THEY CAN HAVE. "

– John Roslien
associate professor of exercise science and director of athletic training
"The master's is the right thing for the profession," he says. "I find myself doing things for the last time, teaching classes I won't teach again. That's the tough part."
Pennington and Nelson are two examples of successes created at Central. The list is long. Perhaps the next success story sits in a classroom on campus, one of the 26 remaining athletic training students who will go through the program as-is. Perhaps it's among the 45 freshmen this fall who expressed an interest in the pre-athletic training program.
"When this was all proposed, people wondered how many pre-athletic training students we were going to have. Three? I had no idea," Roslien says. "I honestly believe at the Division III level in Iowa, we have the best program of anybody. That 45 number speaks to what we've done in the past. If you think athletic training is going away at Central, it's not."
CENTRAL GRADUATES WHO HAVE FOUND SUCCESSFUL CAREERS IN ATHLETIC TRAINING
Josh Brunk '18, occupational therapy program, Washington University, St. Louis, Missouri
Brandon Zumbach '18, athletic trainer, Tri-City ValleyCats (Single-A short season a¤liate of the Houston Astros), Troy, New York Seth Eash '18, physical therapy program, University of Iowa, Iowa City; internship, Green Bay Packers, Green Bay, Wisconsin
Brett Boddicker '17, athletic training doctoral program, Indiana State University, Terre Haute, Indiana Tyler Folkerts '16, doctor of osteopathic medicine program, Des Moines University, Des Moines, Iowa
Joe Rosauer '12, athletic trainer, Jackson Generals (Double-A a¤liate of the Arizona Diamondbacks), Jackson, Tennessee
Jessica Edler '12, clinical education coordinator/assistant professor of kinesiology and health promotion, Grand View University, Des Moines, Iowa
Nate Weir '05, coordinator of rehabilitation/assistant athletic trainer, Green Bay Packers, Green Bay, Wisconsin