GIFTS
---
DOUWSTRA GETS ANOTHER $200,000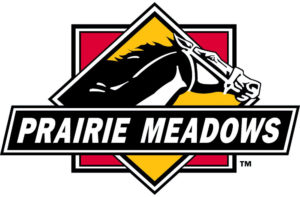 Central received a $100,000 gift from the estate of Nancy Kruidenier Shepard, a Des Moines, Iowa, native from a family with long ties to the college. The gift helped fund the first phase of the recent remodeling of Douwstra Auditorium. "The Kruidenier family has a heritage deeply rooted in the Pella community and Central College," President Mark Putnam says. "We are honored she selected Central as a beneficiary in her estate and are grateful for her family's many decades of support."
In addition, the Prairie Meadows Legacy Grant program awarded Central $100,000 toward the second phase of Douwstra's renovation, including a new, handcrafted pipe organ and new mechanical equipment. The grant program helps fund signature projects that enhance Central Iowa communities.
Central will recognize both donors for their contributions on the Douwstra donor wall.
For information about events in Douwstra Auditorium, check central.edu/events regularly.
To contribute to the second phase of the Douwstra renovation: central.edu/douwstra.
---
DONATION FROM A LEGEND
Central has received a gift of $698,675 from the Bette Brunsting '56 estate. Brunsting served as dean of women and a faculty member from 1964-98. She was known for her rigorous public speaking classes, vivid personality and charge to students: "Courage!" she often told them, and "Go forth and do great things." She was described by a fellow faculty member as "a master teacher and a Central College legend."
"Central is humbled to receive such a significant donation from someone who influenced generations of alumni and faculty as a teacher, colleague and dean," says Sunny Gonzales Eighmy '99, the college's vice president for advancement. "Through her gift, her generosity will continue to influence the Central community for generations to come."
Brunsting also served on the college advisory board, represented faculty on the board of trustees and received multiple teaching, stewardship and professional service awards. She was a generous and longtime supporter of the college. Her Bette Brunsting Student Project Fund provides for student-faculty collaborative research projects, cultural travel and professional meetings. She is honored with Central's Brunsting Fireside Lounge in Graham Conference Center.
Her gift prompted an outpouring of gratitude on social media after it was announced. Gary Timmer '55 summed up the sentiment: "A stunning gift from a stunning person," he wrote.
---
DHAWANS ESTABLISH FRANKSMAHMOOD RESEARCH FUND
Tej Dhawan '91 and Karen Spencer Dhawan '91 endowed the Franks-Mahmood Fund for Undergraduate Research to support faculty/student teams' research.
"Karen and I benefited from research opportunities," says Tej Dhawan, who's served as a member of the college's Board of Trustees since 2002 and is the current chair. "You gain so much with collaboration and the individual attention you get with faculty."
The fund is named after Robert Franks, professor of computer science, and Cynthia Mahmood, Frank Moore Chair of Anthropology and professor of anthropology.
---
MARGE VAN HOUWELING HONORED WITH A SCHOLARSHIP
The family and friends of 39-year Central custodian Marge Van Houweling announced the establishment of a scholarship in her honor. "Marge spent every one of those years making sure the student dorms were clean and comfortable," the donors said.
"Not only did she clean, she was also by nature or her caring personality, a 'mom away from home' for many of the students over the years," they continued. "Marge's life has been dedicated to serving the needs of others, always providing support and placing others before self. There is no better way to honor her life of servant leadership than providing an opportunity for others to seek educational ambitions to further their own service."
Van Houweling worked in Gaass Hall and the Maytag Student Center and retired in December 2018. She died Sept. 2, 2019.
---
CENTRAL RECEIVES MOORE MONEY
The Moore Family Foundation Faculty Development Program for Teaching is funding 11 projects at Central for the 2019-20 academic year. More than $61,000 will go to collaborative faculty/student prairie, agriculture and soil chemistry research, enhancing first-year liberal arts seminars and a student trip to Germany and Poland in remembrance of the Holocaust.
Since 2013, 123 Central faculty have written 90 grant proposals and received $408,071 in funding from the foundation. It was created by the late Frank Moore '49, a former Central trustee, and his wife, honorary alumna Grace Moore '01H. The couple also created two annuity funded scholarships, one endowed scholarship, two faculty awards and a chair in anthropology.
"We're extremely grateful to the Moore Family Foundation for its generous funding of a variety of initiatives that support faculty development related to student learning," says Mary E.M. Strey, vice president for academic affairs and dean of the faculty at Central.
FACULTY AND STAFF NEWS
---


PUTNAM AND JENISON WEAR MANY HATS
Iowa Gov. Kim Reynolds appointed President Mark Putnam to a second term on the College Student Aid Commission. Putnam, who has been a member of the commission since 2017, will serve on the nine-person board through June 2023.
Jenae Jenison '11, director of external engagement at Central, will serve as an honorary Leadership Iowa representative to the Iowa Association of Business and Industry's Board of Directors, a group of leaders working on Iowa business issues, workforce development initiatives and public policy. In addition, Gov. Reynolds has appointed Jenison to a four-year position on the Iowa Energy Center Board.
---
FACULTY CIVIC ENGAGEMENT LECTURE SERIES
The 2019-20 Faculty Lecture Series focuses on civic engagement—making a difference through knowledge, skills, values and motivation. The following lectures run from 7-8 p.m. in the Boat/Moore rooms of the Maytag Student Center unless noted otherwise. All are free and open to the public.
Oct. 23, 2019, in Cox-Snow Music Center — "Mid-Americana: Stories from a Changing Midwest" by Joshua Dolezal, professor of English, and Brian Campbell, director of sustainability education.
Nov. 18, 2019 — "From the Iowa Caucuses to the White House: Understanding Donald Trump's 2016 Electoral Victory in Iowa" by Andrew Green, professor of political science.
Feb. 11, 2020 (tentative) — "Flint, Michigan, and the Water Supply: How Safe is Our Own Drinking Water?" by Paul Weihe, associate professor of biology, and Cathy Hinga Haustein '76, professor of chemistry.
March 9, 2020 — "Civic Engagement Between Sikhs and Anthropologists" by Cynthia Mahmood, Frank Moore Endowed Chair in Anthropology and professor of anthropology.
April 6, 2020 — "From Empathy to Engagement: Mobilizing Public Space in Buenos Aires in #Niunamenos and Beyond" by Kathy Korcheck, professor of Spanish.
---
FACULTY CHANGES
Three assistant professors have earned tenure and promotion to associate professor:
Melissa McAninch (B.S., Truman State University; M.A., Truman State University, University of Iowa; Ph.D., University of Iowa), department of education.
Maggie Fisher Schlerman '02 (B.A., Central College; M.A., Iowa State University), department of economics, accounting and management.
Susan Swanson (B.S., Arizona State University; M.A., University of Minnesota Twin Cities; Ph.D., University of Minnesota Twin Cities), department of art.
One associate professor was promoted to professor:
Kathy Korcheck (B.S., Kent State University; M.A., Kent State University; Ph.D., Washington University), department of modern languages.
Central also made five faculty hires:
Jennifer Counts (B.A., Luther College; M.Ed., Drake University; Ph.D., in progress, Clemson University), instructor of education.
Kate Nesbit (B.A., St. Olaf College; Ph.D., in progress, University of Iowa), instructor of English.
Shelli Green '07 (B.A., Central College; M.S., Southwest Minnesota State University; D.A.T., in progress, University of Idaho), instructor of exercise science.
Crystal Argenta Bruntz '88 (B.A., Central College; MBA, Drake University), lecturer of accounting.
Sean Stephenson (B.M., Millikin University; M.M., University of Missouri Kansas City; D.A., University of Northern Colorado), lecturer of music.
---


STAFF CHANGES
Chevy Freiburger was promoted to executive director of admission.
Michelle Wilkie has been promoted to director of development.
---


DOLEZAL AND CAMPBELL REDISCOVER IOWA
Joshua Dolezal, professor of English, and Brian Campbell, director of sustainability education, launched their oral history podcast "Mid- Americana: Stories from a Changing Midwest" in October thanks to a $18,630 grant from Humanities Iowa. The podcast and its related website explore the history and identity of the region through the lives and stories of individual people.
For more information: www.midamericana.com.
---
HAKEMEN IS ADMISSION PROFESSIONAL OF THE YEAR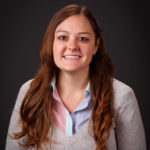 Susie Hakeman was named 2019 Admission Professional of the Year by the Iowa Association for College Admission Counseling. She was recognized for exemplary service to students during their college search by coordinating Central's Scholar Days and other events and for her leadership on the admission team.
"Susie always works hard to build strong relationships with the students," said one nominator, "and is a huge support to the other counselors."
Hakeman joined Central in February 2014 and was promoted to senior assistant director of admission this year.
---
LAINE AWARDED WELLER PROFESSORSHIP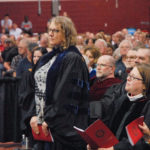 Linda Laine, professor of communication studies, was awarded the Kenneth J. Weller Distinguished Professorship of the Liberal Arts at commencement in May. Named after Central's 18th president who served from 1969-90, the three-year endowed professorship recognizes a distinguished faculty member and provides support for teaching, research and scholarship.
Laine joined the Central faculty in 2004. She has served as communication studies department chair, faculty trustee, chair of the faculty policy committee and president of the Iowa Communication Association. She will be the college's 10th Weller Distinguished Professor of the Liberal Arts.
---
HOW DID TRUMP DO IT?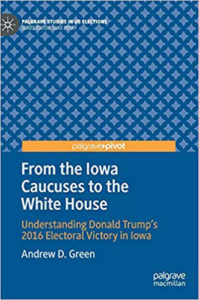 Professor of Political Science Andrew Green's first book, "From the Iowa Caucuses to the White House: Understanding Donald Trump's 2016 Electoral Victory in Iowa," was published in July by Palgrave Macmillan.
"We can finally stop all the speculation surrounding Donald Trump's surprise victory in Iowa in 2016," writes reviewer Christopher W. Larimer of the University of Northern Iowa. "Andrew Green's insightful new book provides the first systematic and, importantly, data-driven look as to how Iowa, a state that twice voted for Obama, overwhelmingly voted for Trump. Anyone interested in understanding the shifting dynamics of presidential politics, where to look for answers in 2020 or why Iowa should still be considered a swing state needs to read this book." Green's book is available online or through any bookstore.
STUDENT NEWS
---
TOP DOLLARS FOR TOP SCHOLARS
Seven participants in Central's Scholar Days each earned the most prestigious Central awards: full-tuition Kuyper Scholarships and Rolscreen Scholarships. The students are Zoey Brockway '23 of Iowa Falls, Iowa; Brendan Short '23 of Normal, Illinois; Bria Holthe '23 of Muscatine, Iowa; Brooke Mumford '23 of Johnston, Iowa; Emma Lowden '23 of Winterset, Iowa; Cassandra Severson '23 of Ankeny, Iowa; and Emma Carlson '23 of Fairfield, Iowa.
Pete H. Kuyper, Class of 1913, founded the Rolscreen Company, known today as Pella Corporation.
"The Kuyper family has a long-standing tradition of service, generosity and commitment to Central," says Sunny Gonzales Eighmy '99, vice president for advancement. Pella Corporation and the extended Kuyper family have been providing Central students with financial assistance since 1952. Their investment in our students and a Central education helps open many doors over lifetimes."
---
A CLASS WITH CLASS: ENGLISH 425 SENIOR SEMINAR
When students take this course from Professor of English Joshua Dolezal, they get an experience modeled on a graduate seminar about American author Willa Cather. It includes a road trip to the Cather Archive at the University of Nebraska- Lincoln and to Cather's hometown, Red Cloud, Nebraska, which boasts the largest single collection of buildings dedicated to an American author. In the archive, students can read, in Cather's own writing, inscriptions of novels given as gifts to family and friends; they also can read a handwritten letter to Cather by Annie Pavelka, upon whom Cather based her iconic character Antonia, which Cather then pasted into a first edition of the novel. A highlight is always staying in the Cather Second Home, which has been refurbished as a B&B with bedroom suites named for places in Cather's ction.
For two former seminar students, that trip led to another. In June, they presented the results of their scholarship at the 17th International Willa Cather Seminar at Shenandoah University in Winchester, Virginia. K.E. Daft '19 offered "A Sociological and Literary Examination of Willa Cather's Fraught Relationship with Czech Culture;" Hannah Marcum Wells '18 presented "'Keen Senses Do Not Make a Poet': Cather's Respectful Rebellion Against Whitman in 'O Pioneers!'" Dolezal, who teaches American literature, medical humanities and creative writing, presented "'Lost By a Song': The Neuroscience of Epiphany in 'Lucy Gayheart.'" Dolezal's memoir, "Down from the Mountaintop: From Belief to Belonging" (2014), was short-listed for the William Saroyan Prize.
---
CAREER KICKSTARTER
Central sophomores can participate in a free, weeklong Career Kickstarter during winter break. It combines an internship with local alumni or other professional mentor, in-depth career exploration and career planning workshops.
"Employers are wanting students to have workplace experiences earlier and earlier," says Jessica Klyn de Novelo '05, Central's director of career and professional development. "And Central has a large and enthusiastic local alumni base that's eager to provide such experiences. It's a natural way for students to make connections off-campus and to try out some career possibilities early in their time at Central."
---
ALPHA ALPHA ALPHA HONORS FIRST-GEN STUDENTS
Central established a Sigma Chapter of Alpha Alpha Alpha, a national honor society for first-generation college students. The society was founded in March 2018 at Moravian College in Pennsylvania. Central is the 18th college in the United States and the first in Iowa to have a chapter. Central's chapter will induct its first cohort during the 2019-20 academic year.
"Central has a legacy of educating first-generation students and supporting their success through graduation," says Central's Vice President of Academic Affairs and Dean of Faculty Mary E.M. Strey.
---
CENTRAL WOMEN LEARN TO LEAD
Central introduced "Leadership for the Common Good: Women's Leadership Conference" in August.
Faculty and staff members nominated Central juniors to meet with women leaders—including Iowa Gov. Kim Reynolds—who are experts in their fields and role models for women scholars and future leaders.
"Participants learned about teamwork, civic leadership, curiosity and entrepreneurship and negotiation skills," says Jessica Klyn de Novelo '05, director of career and professional development and the event's coordinator.
The three-day conference was made possible through funding by the Monticello College Foundation, the Vermeer Charitable Foundation and private donations.
COLLEGE NEWS
---
VOLLEYBALL AND BOWLING, ANYONE?
Men's volleyball and women's bowling are now Central club sports—and may soon be varsity sports as well.
Club sports are competitive, typically require tryouts and are played against other schools. They are not regulated by the National Collegiate Athletic Association or National Association of Intercollegiate Athletics.
"We're excited to add these club sports for our student-athletes to compete in," says Eric Van Kley, Central's director of athletics. "Participation in these sports continues to grow across the country. This the perfect time to look at these as potential varsity sports."
---
TURNING THE (FACEBOOK) PAGE
Our Central College Alumni Facebook page has merged with our Central College Institutional Facebook page. "Like" the page to stay in the know about what's going around campus as well as some alumni news.
---
FOREVER DUTCH® 48-HOUR CHALLENGE SURPASSES GOAL
Central College's Forever Dutch® 48-Hour Challenge was a huge success, surpassing the $220,000 funding goal needed to complete renovations of the lower level of P.H. Kuyper Gymnasium.
Prior to the fundraising challenge, $220,000 was needed to reach the $3-million goal for the latest phase of the Forever Dutch initiative. College supporters blew past that figure—328 alumni and friends of Central contributed a total of $295,588. More than 50% of the gifts were from donors who had not previously given to the Forever Dutch initiative.
"I love the competitive and generous spirit of our donors," says Sunny Gonzales Eighmy '99, vice president for advancement. Work will begin in early March on the lower-level renovation of P.H. Kuyper Gymnasium. It includes the construction of a spacious women's varsity locker room that includes a team meeting room, a reconfigured athletic training room that will provide more treatment space and an expanded athletics equipment room. Work is expected to be completed prior to the arrival of fall sports teams on campus in mid-August next year.
Student facilities are a priority at Central. Central has nearly 600 student-athletes competing in 19 intercollegiate men's and women's varsity sports.
The Forever Dutch initiative has generated more than $13.5 million to-date from 1,323 supporters, funding the building expansion, which opened in 2017. It included a new building entrance with the M. Joan Kuyper Farver Atrium and expanded Pacha Family Lobby, varsity locker room, wrestling room, Chip Griffith Student Lounge, Athletics Hall of Honor, Dave and Ardie Sutphen Golf/Baseball/ Softball Hitting Center and major infrastructure improvements.
Excess funds from the 48-Hour challenge will go toward the next phase: the $3-million upper-level building renovation. It will feature team meeting space, a new welcome center, recruitment space, offices and visitor locker room.
"We're hoping we can quickly roll into the upstairs work soon after the lower-level renovation is completed," says Eric Van Kley, Central's director of athletics.
For more information or to donate: forever.central.edu.
---
TRUSTEE CHANGES 
Central College announced changes to its board of trustees. Kristi Jaarsma Balk '88, Mark Ellingson '80, Steve Perkins '01 and Mark VanderLinden '78 began their terms July 1; Barbara Kniff-McCulla, trustee emeritus, and Denny Hanson '07H retired.
New faculty trustees are Russ Benedict, professor of biology; Lori Witt, associate professor of history; and Cathy Haustein, professor of chemistry. Student trustees are Anne Williamson '20, Elise Askelsen '20, Nicholas Cooper '20, Parker Majerus '20 and Emily Opsal '20.
Trustees provide vision for Central's future and meet twice annually.
---
ACTUARIAL SCIENCE VEE CERTIFIED
The Society of Actuaries has again certified Central College for Economics, Accounting and Finance and Mathematical Statistics. Central previously was certified for all three areas before the SOA made changes to its structure in June 2018.
"The Mathematical Statistics VEE has proven quite hard for small college actuarial science programs to fill," says Mark Mills, professor of mathematics. "I'm really happy we were able to meet the SOA's requirements. "By completing the actuarial science major, students will automatically fulfill all three required VEE areas so they won't have to make up anything once they begin their career. This definitely sets Central apart."