Central offers 100-plus opportunities for student involvement; more than 40 of those opportunities come through student-led clubs and organizations. Each makes a unique mark on the campus—and on the students who staff them. Central adds new clubs nearly every year.
"Student clubs and organizations are a great way for students to connect with other students; grow their support network; increase their understanding of other people, perspectives and cultures; develop leadership skills employers are looking for, apply classroom knowledge and impact their community through engagement and service," says Sean Wiseman, Central's director of student involvement. "I commonly recommend students get involved in a couple of groups: one for fun and sharing a common interest, and one that aligns with their career path."
Here are how six of those organizations contribute to student life and the college's educational mission. For a list of organizations, see "More Student Organizations" below.
CAMPUS ACTIVITIES BOARD (CAB)
"Being part of CAB is one of my favorite things about being a Central student. I get to know the student body better through the events CAB sponsors, and having a say in what happens on campus inspires me to plan events that will bring everyone together."

– Yana Rouse '21
Mission: Build campus community via cultural and entertainment events.
History and Operations: Established in 1961, about 15 to 20 interview-selected CAB members work two or more hours per week in the Student Involvement Office. Members lead campus events by contacting off-campus entertainers about performing at Central, reserving spaces for the event and creating advertising, all while working within a predetermined budget. Events are no cost to students and range from outdoor activities such as ice skating on the pond to performances by visiting musicians and comedians. Many events also aim to interculturally educate, such as movie showings that focus on the Civil Rights Movement or LGBTQ+ history.
Achievements: CAB puts on approximately 30 events per semester, with attendance typically ranging from 100 to 200 students.
Goal: Increase the number of students on staff from 12 to 20.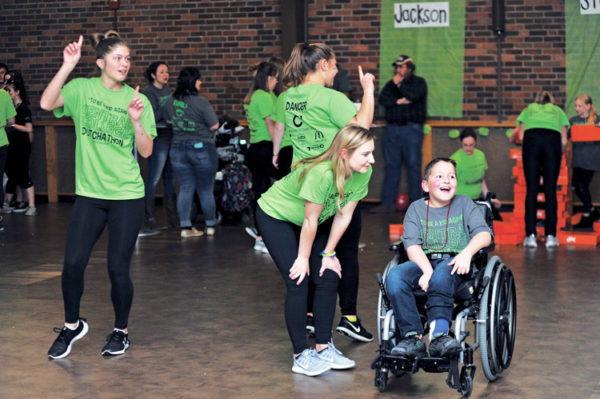 DANCE MARATHON
"Dance Marathon is full of fun, outgoing and hard-working students who want to make a difference in a young child's life. Being a part of this group has made such an impact on my life, too."

– Rylie Conway '21
Mission: Raise funds for the University of Iowa Stead Family Children's Hospital.
History and Operations: Central began its Dance Marathon in 1981 and raised $3,498.25 for muscular dystrophy research. The marathon lasted 30 hours and included square dancing, costume contests and card tournaments—anything that did not involve standing still or sitting down was considered "dancing." Currently, 85 members conceive, plan and execute a themed spring dance marathon that includes in attendance the families and medical professionals supported by the event. Participants each raise $25 or pay $10 at the door.
Achievements: The 2018 marathon, themed "To Be A Kid Again," raised nearly $9,000.
Goal: Increase participation in the marathon and raise $10,000.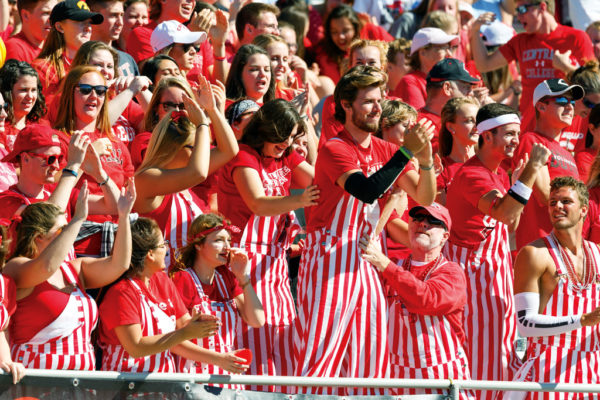 DUTCH BRIGADE
"As a freshman, the Dutch Brigade was a great way for me to make friends and bond with other students over how much we love Central."

– Brad DiLeo '22
Mission: Unite Central students and alumni through service and school spirit.
History and Operations: The Dutch Brigade is well known for attending sporting events in red-and-white striped overalls, but the students participate in community service multiple ways, like working as greeters at the A Capella Choir's concerts. In Fall 2018, the group led two projects for Central College Service Day—running games at the Children & Family Urban Movement Fall Festival and serving food for the organization's daily meal.
Achievements: The group is one of the largest service organizations on campus, with more than 60 members.
Goal: To expand community building by completing more service projects, like assisting in the tulip planting on campus and hosting team-building activities with Dutch Brigade members.
OUTDOOR-ISH CLUB
"I thought I was going to miss the outdoor activities available in my home state of Colorado until I learned Iowa actually has many of the same opportunities. I want to build community and bring students new opportunities to explore the state."

– Jack Jermano '21
Mission: Offer Central students the opportunity to explore Midwestern nature through rock climbing, hiking and other outdoor activities.
History and Operations: Founded in Fall 2018, club leaders plan various excursions throughout the semester. Members have the opportunity to attend the events that interest them, from rock climbing trips to Climb Iowa in Grimes or a service cleanup at Lake Red Rock.
Achievements: As a new group on campus, the club had to undergo a rigorous creation process. The founders had to garner 15 student signatures of endorsement for the club, develop a constitution of guidelines and present their goals to Student Senate for approval.
Goals: To take the group rock climbing outside at least once during the school year.
POETRY  CLUB
"I founded Poetry Club so students can see writing as fun and something they can emotionally connect with—and to create relationships among student poets on campus."

– Mary Rose Fair '19
Mission: Create a positive and casual environment for students of all skill sets to write and share poetry.
History and Operations: Since its founding in Fall 2017, membership has remained at about 10 people, creating a close-knit environment. During meetings, students read original writings aloud and receive feedback from the group or complete writing exercises together and share their results.
Achievement: Poetry Club remains the only extracurricular activity on campus dedicated to creative writing open to students of all majors.
Goal: To attend a formal poetry reading or poetry slam together.
REMEMBER THESE CLUBS?
FIELD HOCKEY
Central's sports organizations once included women's field hockey. The sport was established at Central in 1938 by Tunis Prins, director of athletics and professor of physical education, 1938-49. It was an intramural sport and teams played an exhibition game once per year during halftime at a football game. This photo is from 1954.

KCUI
Central's radio station first aired Dec. 15, 1960. The station broadcast student-produced material from musical compositions to sports coverage. To ensure students could listen to the broadcasts, the school purchased five FM radios for each residence hall that could be checked out for one week at a time. This photo was taken in 1996.

STUDENT SUSTAINABILITY COALITION
"This is a great place to bounce around ideas for sustainability on Central's campus. I've gotten so much advice about projects I want to start, which creates great communication about sustainability at Central."

– Elizabeth Sheldon '21
Mission: Promote environmental awareness in the Central community by providing opportunities to serve the environment.
History and Operations: Students Concerned About the Environment, founded in 1987, has been rebranded as Student Sustainability Coalition within the past year. Meetings are held once a month and are open to all students. This time is an opportunity for students to share how they are living sustainably, discuss environmental news and brainstorm initiatives to increase Central's sustainability.
Achievements: In Spring 2018, members of the coalition successfully got individual recycling bins in all dorm rooms on campus.
Goal: To plan and execute a sustainability-related event on campus as a coalition.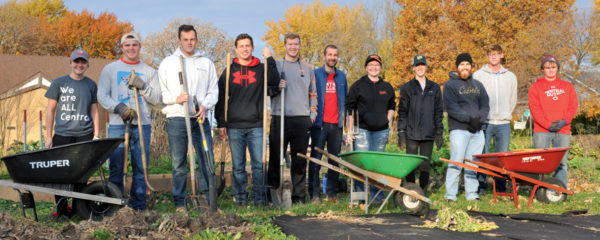 Central's student body spawns new student organizations all the time. In 2018-19, an agriculture club formed for students interested in ag careers. It sponsored a "goat therapy" event before Spring 2019 finals in which students could pet or hug a kid of the cloven-hooved kind.
And the 2019-2020 academic year will be particularly fruitful. As a result of student interest, four more new clubs will debut—target shooting, angling, women's bowling and men's volleyball.
MORE CENTRAL STUDENT ORGANIZATIONS
Agriculture Club
ALIVE: Catholic Campus Ministries
Angler's Association (Fishing Club)
Anime Club
Anthropology Club
Art Club
Book Club
Bridge Club
Central College Democrats
Central College Republicans
Central Students for Life
Chemistry Club
Common Ground (LGBTQ+)
Computer Science Club
Drone Club
Dutch Boom
Drumline
Economics, Accounting and Marketing Club
Education Club
Fellowship of Christian Athletes
French Club
Graham Hall Council
Greek Council
History Club
Hockey Club
Hoo-Rah Squad
InterVarsity
Math Club
Men's Volleyball
Mock Trial
Organizations of Latinx-American Students (OLAS)
Philosophy Club
Physics & Engineering Club
Scholte Hall Council
Student Alumni Association
Students Against Human Trafficking
Townhouse & McKee Hall Council
Ultimate Frisbee Club
Women's Bowling
---
To contribute to any Central College student organization, contact: Sean Wiseman, Director of Student Involvement, wisemans@central.edu, 641-628-5134.