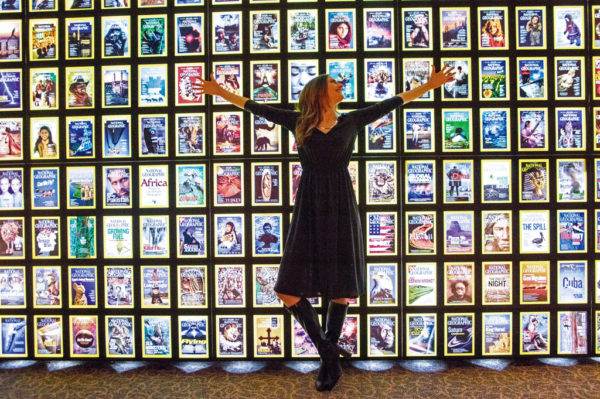 Taylor Schuelke '12 coordinates video production from creative direction to budget to scriptwriting to location selection to logistics to crew management.
Turns out that's not only what she does, it's who she is.
When I asked to interview her in Washington, D.C., she responded with production notes: a choice of locations complete with website links, walking directions and comments about photo background, recording noise levels and location permission requirements.
On site, before I could remove my lens cap, Schuelke had scouted camera angles, assessed light levels, wheedled permission to enter a locked room and charmed the building engineer into reprogramming the lighting.
During our shoot, Schuelke was photo subject, art director, location manager and photo assistant. I held the camera and pushed the shutter button when told. "Let's try that again," she'd say, squinting the camera screen until we'd taken an image that satisfied.
"I'M A BIT OF A PERFECTIONIST. AND I LIKE TO BE BUSY."

– Taylor Schuelke '12
Then we sat down in a cafe where Schuelke, with but the slightest prompts, supplied a dramatically paced, documentary-style overview of her life. I've never conducted an easier interview. I had a wonderful time, but felt a bit superfluous. Schuelke could have done the whole gig without me, and probably better.
"I'm a bit of a perfectionist," she confessed when it was over. "And I like to be busy."
Here's a film-treatment version of her education and career to date, with a few snippets of dialog from the narrator and protagonist:
SCENE 1: CENTRAL COLLEGE CAMPUS, PELLA, IOWA
Introduction: Enter Taylor, an energetic first-year student from Rosemount, Minnesota. Recruited for volleyball, she has energy to spare, adds track. Double majors in art and French. To keep busy, adds position as track representative to the student athletics advisory committee, photo editor of the campus newspaper, singing in jazz combos and interning in the study abroad office. Studies off-campus on Central programs twice—once in Paris, once in Washington, D.C.
Dramatic Tension: Taylor is daughter of two engineers and is a math whiz—but loves art. What to do? "I've always thought of art as very mechanical, and love 3-D art for that reason," she confesses to mentors Matthew Kelly, associate professor of art, and Brian Roberts '92, professor of art. They respond by pushing her toward a freer style. Glassblowing forces her to embrace a flowing, organic medium; it becomes her favorite class, foreshadowing her later transition from still photography to video. Walter Cannon, professor emeritus of English, gives her intensive mentoring in writing, freeing her prose to flow as well, foreshadowing later work writing video scripts. Liberated but still unsure of where it all leads, Taylor studies abroad in Paris.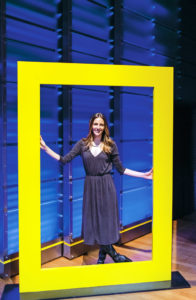 The Aha! Moment: Back from Paris, Taylor spends hours editing her photos. Discovers producing Facebook photo albums combines her artist's eye for composition with her innate penchant for organizing and sequencing. Her talent is affirmed by winning a Central study-abroad photo contest with a photo of a little French girl in a red peacoat reaching to feed ducks at a historic Luxembourg fountain.
Epiphany: Study of French culture helped create iconic photo. Wants to make more such images.
Passion Found: Taylor takes up photography in earnest, becomes photo editor of The Ray, Central's student newspaper. Photojournalism internship in Washington, D.C., follows. While there, applies for photographer job at National Geographic, seeking to combine her love of photography, travel and culture. Is told they need videographers, not photographers. Starts shooting video. Feels further liberated by the addition of motion to her art. As scene ends with commencement, Taylor ponders where it will all lead.
INTERLUDE: TAYLOR'S PARENTS' HOUSE, ROSEMONT, MINNESOTA
Rolling the Dice: Taylor, thrilled by her discovery of video but unsure how to make a living, returns home to Minnesota and starts freelancing as a photographer. Gets lots of wedding jobs, little artistic satisfaction. "I'm really sad here. I was so happy in D.C.," she confesses to herself one night. Packs a suitcase and buys one-way ticket to D.C.
SCENE 2: WASHINGTON, D.C.
Snake Eyes: Taylor sleeps on the floor of a friend's apartment by night, spends her days at the workplace where she'd interned earlier, making herself available for work (which is light and occasional) and applying for full-time jobs (which are not forthcoming). After a month, runs out of money. Returns home for Thanksgiving at request of her concerned parents. Leaves her suitcase and its contents in D.C., symbolizing determination to return.
INTERLUDE: TAYLOR'S PARENTS' HOUSE, ROSEMONT, MINNESOTA
Vindication: Taylor, barely off the plane from D.C., gets phone call proffering a full-time job in D.C. After a joyous Thanksgiving, packs second suitcase and returns to D.C. for good. Shades of Mary Tyler Moore: "You're gonna make it after all!"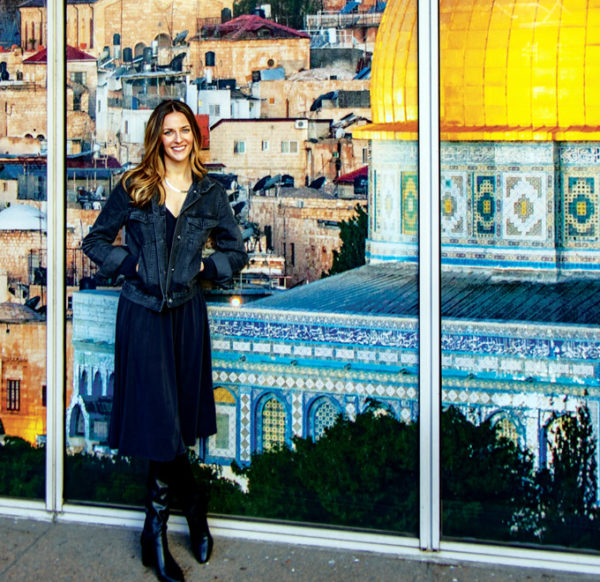 SCENE 3: WASHINGTON, D.C.
Paying Dues: Taylor gets a first job as an assistant for an independent commercial video production house. It's grueling, which suits Taylor just fine. "The video van would pick me up at 4 a.m. and drop me off at 10 p.m. every night. All I wanted was more. I was on film sets all the time. I was on Capitol Hill at least once a week. I got to meet Christine Lagarde, Meryl Streep, Martin Sheen. I spent two days filming at the mansion of the rapper Ginuwine and it was so much fun!"
It is video boot camp: set up, style, shoot, takedown, cleanup, repeat—all under the gun, on deadline. Miss a shot, make a technical mistake and you're dead—there's no time or budget for a doover later.
The transition from college to professional life is no problem for the former Central two-sport athlete, two-major scholar, two-off-campus-program traveler and two-thesis second-semester senior. "I like to be completely scheduled, so I was also taking a media and ethics class in The Associated Press building and started a blog of my photography. Being busy is my natural state so it wasn't difficult to adapt."
Testing Limits: Taylor's next job is for a company that specializes in live events for executives—including a five-week, 40,000-attendee Mary Kay convention in Dallas. Working with motion graphics designers, video editors and audio engineers, she produces all the event's videos.
There is a jumbotron behind center stage, and vertical, trapezoidal and horizontal satellite screens crammed with video content—singers, dancers, pogo-stick walkers, entertainers, laser light shows, motion graphics that pulsed to music—all timed to complement with motivational and educational presentations.
Being completely scheduled is no longer a problem. "I'm 22 years old. I've never been more unhealthy in my life. We work 80 to 120 hours per week. It's awful." If commercial video was boot camp, this is full-on, real-time battle—but a great way to learn a lot, fast.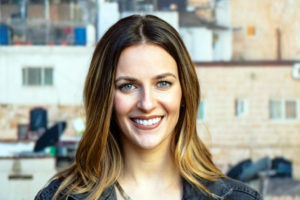 Big Break: Taylor gets a call from a former mentor, a producer at National Geographic, asking if she knows of anyone who might be interested in an associate producer job. "What about me?" she asks. The next day, she quits her job and starts work on Inside the Mega Twister, a National Geographic special about a 2013 Oklahoma tornado— the largest ever recorded on earth. Her job: help compile video clips from 160 storm chaser sources into a film that captures the event from initial strike to end. The result is a huge success.
"I'VE BEEN ABLE TO DO WHAT I DREAMED. NOW I GET TO DREAM AGAIN."

– Taylor Schuelke '12
In Demand: Now a known quantity with a major project in her credits, Taylor works on other documentaries, including the Mystery of the Manta Ray and Grizzly Empire, the latter a series on bears in Alaska. Then, in her first job on an extended series, she joins the postproduction crew of The Incredible Dr. Poll, a top-rated Nat Geo Wild reality series about a Michigan veterinarian who treats everything from lizards to beef cattle. She begins as an associate producer, quickly starts writing and editing scenes, advances to producer, then producer/editor. "I'm doing what I've dreamed. Now I get to dream again," she says.
POST-CREDIT MESSAGE
Taylor Schuelke continues her work as an independent freelance filmmaker based in Washington, D.C. She plans to focus on nonfiction film, and has her sights set on directing a documentary.