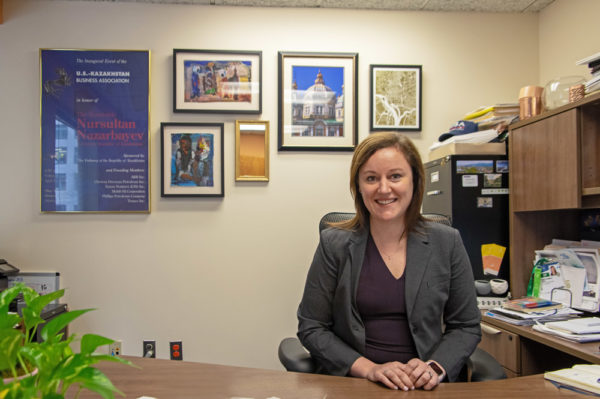 Sarah Frese Nickel '09 grew up in smalltown Iowa, but always had her eyes on the horizon. The daughter of parents who met on a mission trip abroad, she learned about world cultures early: Her family hosted visiting clergy from around the world and even went on their own mission to Cambodia.
Now she's executive director of the U.S.-Kazakhstan Business Association in Washington, D.C. It is a group of about 45 U.S. corporations that promotes economic and commercial cooperation with Kazakhstan, a former member of the USSR that is now the world's ninth-largest country. It has a large agriculture sector, rich energy resources and a growing industrial base.
"Kazakhstan is a proud and welcoming country, and much of it is very similar in climate range to America's upper Midwest," Nickel says. "There's so much opportunity for American companies in education, agricultural infrastructure, irrigation, agricultural equipment and energy there."
A DREAM JOB
As the association's only employee, Nickel has taken 30 Kazakhstani farmers, corporate and government officials and academics on tours of the American upper Midwest; last fall she took representatives of 16 American companies to Kazakhstan. Both groups met with their counterparts abroad. At the association's office, she serves as a one-stop shop for Kazakhstan information and contacts for association members, interacts with ambassadors and other high-level government officials in both countries and does all the recruitment and fundraising for the association.
"It's kind of a dream job," Nickel confides over borscht and pelmeni at a Russian restaurant near her office. She's been at the association for five-and-a-half years now. "I've gotten to know all the member companies, their business sectors and how they operate really well. What I do is a mixture of corporate government relations, business consulting and international business strategy."
She says it is particularly exciting to be working with a young country. "Like other post-Soviet countries, Kazakhstan is just 29 years independent and is trying to define what its place is in the larger world. Trade and cultural and economic activity are so important to that."
Following its independence, the Kazakhstan government sent its best and brightest citizens to the top 100 universities around the world for free in return for their pledge to come back and work in the country for five years. "There's a whole generation of people 10 to 15 years older than me and younger who have had a lot of opportunities to work and learn abroad," says Nickel, who loves the challenge and excitement of working with such accomplished, cosmopolitan and highly educated Kazakhstanis.
"We did a pre-briefing with a new U.S. ambassador to Kazakhstan before he took his post. Our member companies introduced themselves and told him what they do in Kazakhstan and what they know about the country. We appreciate the U.S. embassy's support. We do regular events with Kazakhstan's U.S. ambassador here, too. And, I'll be going to Houston for an energy conference," she says.
One of the benefits of the job is the chance to live in Washington, D.C. "I love D.C. It's not as big as New York—I can walk to work—but it's a true international city, with food and people here from all over the world."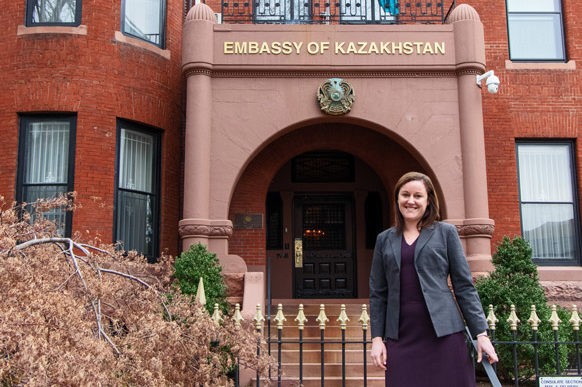 "I LOVE D.C. IT'S A TRUE INTERNATIONAL CITY, WITH FOOD AND PEOPLE HERE FROM ALL OVER THE WORLD."

— Sarah Frese Nickel '09
GETTING THERE
So how did she get here from rural Iowa?
Even as a high school student Nickel knew she didn't have to travel farther than Pella from her home in Marshalltown to study at a college long known for offering its students a window on the world. She'd first learned about Central from participating in National History Day (nhd.org), an event the college hosts annually.
During her high school senior year, Central recruited her to play soccer. "The team was great," she recalls. "They made me feel at home and welcome right away, and I learned about the study abroad options at the same time. I could see that Central was the right size for me. I could do a little bit of everything: study all kinds of subjects, play soccer, go abroad—and not have to narrow my interests."
Those interests were considerable.
AN INTERDISCIPLINARY PERSPECTIVE
Nickel credits her highly interdisciplinary liberal arts education as excellent preparation for a job that combines many different roles under one job title. She also appreciated the college's flexibility. "My freshman year I wanted to take a 300-level class, which isn't the usual practice. But I talked my way into it and I loved it," she says.
"My political science professors, Jim Zaffiro and Andrew Green, were wonderful," Nickel recalls. "At the time, the political science and art faculty had their offices in the same building, and you could sit on a couch in the lounge outside and talk to everyone at once."
"I had done a lot of pottery in high school, so I kept doing that at Central. And I took glassblowing. It was great to make something with your hands. I liked everything."
And what, exactly, do glassblowing and pottery have to do with international business?
"It's all about being open to multiple perspectives," Nickel says. "You can't look at things through a tunnel. Everything is affected by or affects something else. You can't over-simplify. In Kazakhstan, they're building a country: a culture, an economy, a language—you have to be able to look at things using different strategies and perspectives to make sure you're seeing the full picture."
If she learned to see things from diverse perspectives in classes, she learned how to do many jobs simultaneously as a co-president of the Campus Activities Board. "We ran everything from A to Z," she says. "We budgeted, contracted and scheduled acts and artists. Bonnie Dahlke was the director of student activities then, and she was great. She'd tell me when we weren't doing something right in a way that made sure we knew how to build on what we'd learned and grow from there. She was always super supportive. We made all the arrangements, covered all the details. I've used that on all my jobs—the ability to get excited about a lot of things and explore them all and work out all the details."
Nickel also was involved in Pella. She taught swimming and lifeguarding at the public pool for several summers and eventually became pool manager, which she says gave her valuable experience managing people.
OFF-CAMPUS STUDY
Other major bridges from her Central experience to her international business career include studying off-campus for two semesters—one in Vienna and one in Washington, D.C. Her Vienna experience included taking a crash course at the Goethe Institute during the preceding summer. She was the only native English speaker there at the time and had to communicate with all her fellow students from all over the world speaking only in German. That gave her experience learning a new language quickly and comfort with people from many cultures. She brought her soccer cleats with her and ended up playing Gaelic Football—a cross between soccer and basketball—with a bunch of Irish and other expats in Austria, furthering her multicultural experience.
All of the above is proof, she says, of the individual nature of a Central education. "I felt like I could explore anything and everything. If I was interested, I could always find a way to fi t it into my program. I don't know many other colleges where I could have double majored, played a sport and studied off-campus twice."
Her semester in D.C. resulted in a job offer there with what now is the Atlantic Council, a U.S.-European relations think tank. She was hired to coordinate the organization's first conference in Bucharest. That involved managing a million-dollar budget, three trips to Hungary and working with the likes of Chuck Hegel, the chair of the Atlantic Council at the time and secretary of defense during the Obama administration. Later, she managed the conference when it moved to Istanbul and spent a good deal of time in Turkey. It wasn't a bad gig for a fresh college graduate.
"I DON'T KNOW MANY OTHER COLLEGES WHERE I COULD HAVE DOUBLE MAJORED, PLAYED A SPORT AND STUDIED OFF CAMPUS TWICE."

— Sarah Frese Nickel '09
"THE IOWA GIRL"
In 2012 she applied to Georgetown University's prestigious School of Foreign Service Russian and Eurasian Studies program. She had to learn Russian from scratch. Coping with the Cyrillic alphabet was "like learning to read all over again," Nickel says. But much of her graduate school experience was similar to her Central studies: interdisciplinary (she took courses in Russian history, politics, language, culture and economics) and heavy on electives.
She relished being one of very few students there who wasn't an Ivy League graduate. She proudly introduced herself as "From Central College, in Iowa." It made her memorable, even to professors who were former ambassadors or attachés.
"They'd say, 'You're the Iowa girl!'" says Nickel. "I really stood out."
Her Central experience managing multiple roles and projects came in handy during grad school, too. She was simultaneously working full time doing macroeconomic risk analysis as an associate for Oxford Analytica, an international business consulting firm, in its Washington, D.C., office. The firm was founded in the U.K. by David Young, who had worked for Henry Kissinger during the Nixon administration.
While at Georgetown, she received a grant to attend a conference in Baku and to go to Kyrgyzstan for a summer. She still had a year left of grad school when a friend sent her the posting for her current job. It's perfect for her. "I like politics, but I don't like infighting," she says. "Here, I can work for the American team on the international level. I do answer questions about such things as the spillover effects of Russian sanctions, but I stay out of domestic politics."
Nickel has stayed in touch with Central since graduation and regularly attends the college's regional alumni meetings in D.C. She remains an avid soccer player and Central fan. "There are not many things I want to go back and redo, but what Central has done with the soccer team and program recently is awesome," she says. "I'm really proud of what they've accomplished and are continuing to build."
Her advice to Central students: "Don't let the college's size fool you. You can get a big education there. Jump in and explore all your interests. Join student clubs, work in town, take whatever courses interest you. I wouldn't trade my Central education for anything."
---
Learn more about Central's international studies program
Learn more about Central's study abroad programs