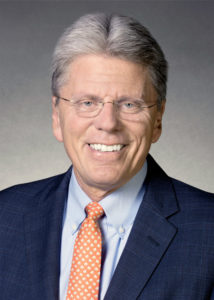 Steve Van Wyk '81, executive vice-president and head of technology and innovation for The PNC Financial Services Group, will speak at Central's 2019 commencement Saturday, May 18, at H.S Kuyper Fieldhouse. Van Wyk, a Pella native, earned a bachelor's degree in business management and accounting from Central.
Van Wyk has been with PNC since January 2013. He previously served as global chief operating officer for ING, Amsterdam. He was promoted to that position in 2007, a year after joining ING as chief information officer of the Americas division.
Van Wyk also worked at Morgan Stanley, holding various positions from 1996-2006. He was the global chief information officer and global head of operations and technology in its retail division.
He previously worked as a senior manager and computer assurance consultant for Deloitte & Touche in Chicago; as chief information officer and chief financial officer at Pella Corp.; and as controller and senior auditor at Phillips Petroleum Company in Oklahoma.
For more information about commencement, visit central.edu/alumni/commencement