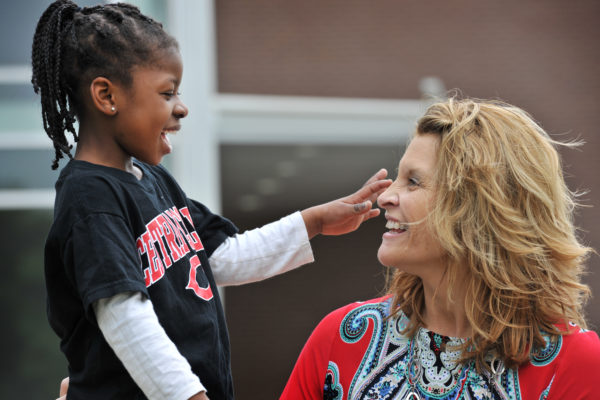 When Jen Diers, assistant professor of education, first met Lucy, she thought she would never see the child again. Diers was sure Lucy would die in an orphanage in Sierra Leone before she was able to return to the country. But now Lucy is living with Diers and her husband and three kids a few blocks from Central College. The seven-year-old (her real birth date in unknown) may look like she's three years old, but she's walking and talking, things she couldn't do before she left her home country.
Diers first traveled to Sierra Leone in western Africa in 2010 with The Raining Season, a nonprofit organization that runs an orphanage in the country. "My eyes were completely opened," she says of that first trip. People lived in little shacks, and children wandered the streets alone searching piles of garbage for food.
Diers returned to Central and shared Lucy's story with her students. Abandoned on a beach as an infant, Lucy was taken to an orphanage and left in a corner without food or human contact. The people there thought she was cursed because of her developmental disabilities, a common belief in Sierra Leone. On her second trip, Diers and the three Central students with her were able to petition for a medical visa so Lucy could come to Pella for medical treatment.
"Lucy has been a springboard of interest for the studentat Central," says Diers. "I share her story and they get to meet her and see her. As I would share, they would come up and say, "I want to go!"
On a total of four trips to the country, Diers has taken several education students and alumni with her to do teacher training, play with kids in the orphanage and design educational stations they can work through.
"Our lives will never be the same," says junior Hanna Wilson, who has been to Sierra Leone twice. "We gained a perspective on what like is like outside the United States. Most importantly, I gained a fire that fuels my fight to help save orphans and speak out for them."