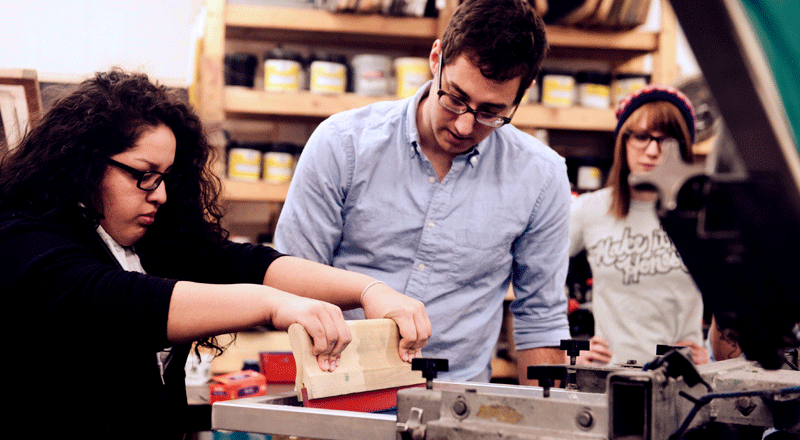 "What do you want to learn, and how do you want to learn it?"
It was a simple question that Adam Weiler '04 asked a group of six high school students at a coffee shop in Holland, Mich., back in 2008. It yielded a surprising answer.
The students told him they didn't want to be graded. Not an altogether shocking revelation from teenagers, but their reasoning was the surprise. They wanted to have the freedom to try and fail, to learn from their mistakes. Moreover, they wanted a hands-on environment where they could learn from passionate, knowledgeable experts.
Weiler could relate. "In high school, a particular path was set out that I didn't have the courage to see beyond," he recalls. "I didn't have the encouraging community to allow me to see creativity as a viable option."
Not until he enrolled at Central was Weiler introduced to an intellectual community that fostered his creative growth. He thrived. When he saw young people yearning for a similar experience, Weiler knew he had to do something. Thus, Ambrose was born.
An after-school program for high school students, Ambrose presents weekly workshops in applied art. From photography and typography to graphic design and drawing, local creative professionals share knowledge of their craft and the business skills that make it a viable profession.
Although his coffee shop conversation helped define his purpose, Weiler had known for many years that he wanted to work with kids. A teacher by day, he traces his passion for fostering creativity in young people to his time at Central. There, he attended a presentation by visiting artist Tim Rollins, who shared his story of hosting art workshops for at-risk teens in New York City. "That was my first understanding of vocation," says Weiler. Afterwards, he knew his future lay in working with young people.
Weiler knows how critical it is for the young to engage in problems and try out creative solutions. Seeing the rise in unemployment, coupled with Michigan's 93 percent cut in the state arts budget, he realized the next generation would need creative, passionate professionals. But that creativity requires courage.
"Our society is really risk averse," Weiler says. "I don't think we have a high school system that encourages authentic inquiry. Having a space where we're encouraging kids to make mistakes is really healthy and really beautiful. You have students engaging in the material in such a way that they're starting to understand it better."
While it is framed through applied arts, Ambrose's real goal is to promote creative problem-solving in any field. As a fine arts and math major at Central, Weiler understood the importance of a multi-faceted education. The programming at Ambrose encourages practical skills alongside creativity.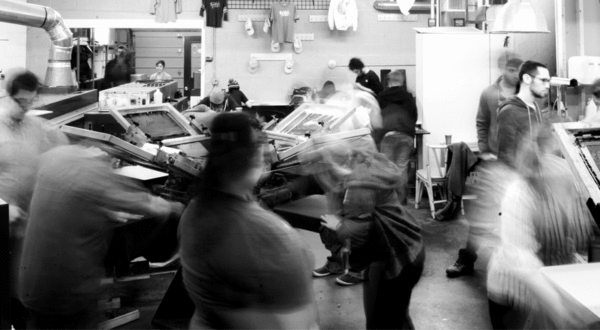 To fund the workshops and cover operational costs, Ambrose runs a screen-printing business. Weiler and visiting artists design and print branded T-shirts available through their website. They also hire out their services to local schools and community groups. In a completely sustainable process, volunteers and students hand print shirts on a 20-year-old screen printing press known affectionately as Iron Abe.
Under a new curriculum being developed for their fourth year of operation, veteran students will be able to take a hand in running the business—after spending their first year learning creative skills and transitioning to product design and entrepreneurship.
The ability to fail has been important for new students exposed to a more liberal education system for the first time. "The design world can be incredibly critical of things you produce," Weiler admits. "We need students not to worry that their first step doesn't look like somebody else's fifth mile."
It is a challenge students have responded to. Though still in its infancy, Ambrose has seen its alumni enroll in college and even start small businesses. Though many of them go on to pursue the arts, Weiler is happy to see alumni in any field. He simply wants them to find a use for the creative thinking his organization cultivates.
"We're not encouraging them to take our next step, but theirs," he says.